Migration to Zoho CRM with Zoho ATS set-up – A case study
The Client: Looking to migrate from legacy CRM to Zoho CRM
A reputed design company in search of data migration services to migrate from their existing CRM software to Zoho CRM and an online recruitment software setup.
Infomaze helped them by providing a successful implementation of the Zoho CRM and the Zoho Recruitment software.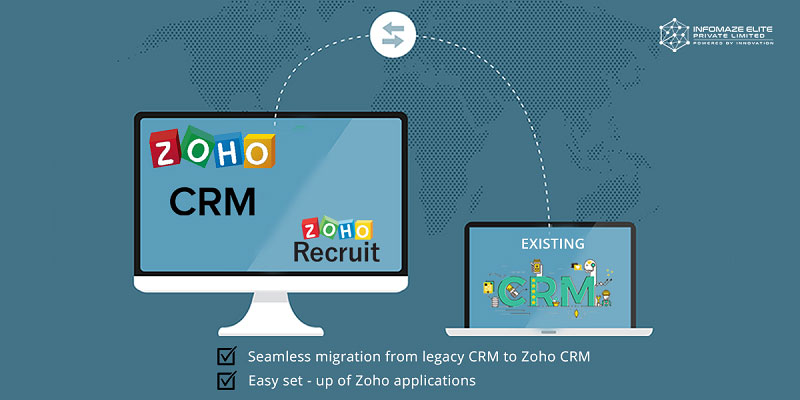 The Challenge: Managing the recruitment process without an online recruiting system and shuttling between software for data retrieval
The existing CRM software that the client had been using was not from Zoho. As they had plans of setting up other Zoho applications in their business for higher efficiency, it would mean juggling between the new Zoho applications and their existing CRM software to reach an insightful decision. Also, it would increase the amount of time and workforce spent while reaching a business decision.
Also, the client had plans of expanding their business for which they were hiring recruits, which would lead to an increase in workforce hours during the recruitment process.
The Requirement: Seamless migration to Zoho CRM and Zoho ATS setup
The customer to negate the amount of juggling between their existing CRM system and the new Zoho applications, and to enjoy the complete Zoho CRM features, opted to migrate from their existing CRM to Zoho CRM system and wanted a rapid and secure migration of data.
Also, the client wanted to custom set the Zoho CRM workflow management system to suit their business process specifically.
The client wanted to keep a check on their business performance from dropping and not waste too much time or workforce on the hiring process. They wanted us to set up the Zoho Applicant Tracking Software (Zoho ATS) or Zoho Recruitment software to help them run their business seamlessly.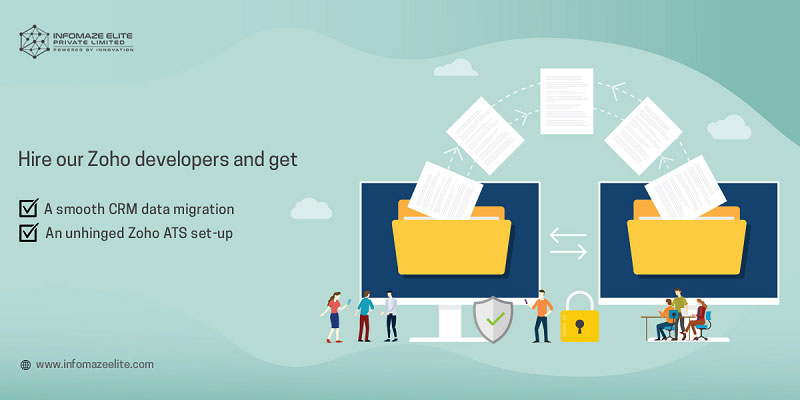 The Solution: Zoho customization for Zoho CRM and Zoho ATS
As Zoho authorized partners, our developers at Infomaze seamlessly carried out the migration into the new Zoho CRM software without disrupting the client day-to-day business processes after repeated testing to ensure every step of the process would go smoothly from re-organizing to filtering out duplicated data on their legacy CRM system.
With the expertise and the top-notch Zoho customization services we render, we customized the Zoho CRM workflow management system for our clients with custom actions, triggers, and task assignments for a productive workflow.
Our Zoho experts initiated a successful setup of Zoho ATS or the Zoho Recruitment software and customized it to sort, store, and manage the candidate resumes efficiently.
The Result: Successful implementation of Zoho CRM and Zoho Recruitment software.
The migration from their legacy CRM to the Zoho CRM that Infomaze carried out enabled our client to handle all of their data from all Zoho applications on a single platform and with the easy Zoho CRM integrations available, our client plan to get more Zoho applications implemented in their business.
The customized workflow management system we offered through our Zoho customization services, made it impossible for the client to miss sending a quote/sales order or commence a new task at the right time. The client could also track, prioritize their leads, and set a follow-up efficiently.
Also, with the pre-set criteria that we customized in Zoho Applicant tracking software, including years of experience, recommendations from former employers and more, the client could easily filter out the candidates and automate the process of recruitment.
Overall, our client saved time during the recruitment process and did not have to shuttle between different data sources because of the migration to Zoho CRM. Along with time, our client saved workforce energy and increased their business performance and their ROI effectually.
Are you interested in getting your Zoho solutions customized or want a Zoho CRM demo before finalizing your decision on what you need?
---