IT Help Desk vs Service Desk: Everything You Need to Know
The Main Goal of the IT Help Desk & Service Desk is to Improve the End-User Support Experience
Do you think the Service desk & IT Help desk are the same? If not, what are the differences between the two? These two solutions are considered the same thing, but there is a vast difference between them.
Despite the difference between the IT Help Desk vs Service Desk, both solutions handle communication with end-users, manage incidents & service requests.
IT help desk services provide quick fixes to IT issues, and service desk services concentrate on complete customer service and its business needs. The primary contrast between the IT Help Desk and the Service Desk is the scope of service delivered.
In this blog, we will explore the definitions, the essential characteristics, benefits, different queries examples, break-fix services, & popular IT help desk services & IT service desk software.
Service desk acts as a single point of contact (SPOC) between the service provider & customers. The IT service desk typically has a comprehensive function that is more strategic & cross-organizational.
A service desk manages incidents beyond basic IT fixes and includes broader IT support services options for service requests and user communication.
Some key traits of the IT service desk are:
Acts as SPOC for all applications, IT-related areas & business processes.
Fully integrated with IT service management.
Delivering self-service capability for the service request & incidents with integrated service catalogue.
Tracking submission with SLAs (Service Level Agreements).
Communicating & integrating with CMDB (Configuration Management Database).
IT service desk enables the business to:
Provide problem resolution efficiently.
Promote the agency's productivity.
Offers a seamless solution experience.
Management of IT assets & acquisitions.
Endure implementation changes & long-term support decisions.
Deal with incidents & service requests in real-time.
A few most common queries that a service desk services include:
Problem management queries.
Change management queries.
Incident management queries.
Employee queries.
Customer queries.
Administration queries.
Listed below are some various break-fix services provided by the IT service desk, including:
SLA (Service Level Agreement) organization.
Configuration management.
Account management.
Incident management.
Informational assistance.
Asset management.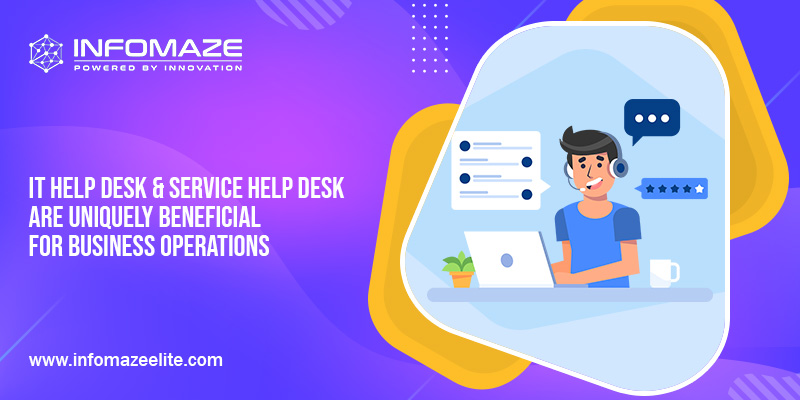 IT help desk services' definitive goal is to provide resolutions for users with immediate IT requirements and technical issues and incidents as efficiently as possible. Users can contact an enterprise's IT help desk support via multiple communication channels such as email, skype, & phone.
IT helpdesk support can be separate from or part of a tactical operation to improve the community's customer services. IT help desk outsourcing helps focus on your core business and get resolutions for your products or services.
Some key traits of the IT helpdesk support are:
Automated tracking of tickets, routing, & email notifications.
Acts as SPOC (Single Point of Contact) for IT help desk support.
Limited integration with ITSM practices, including knowledge management & configuration management.
Tracking solutions for incoming incidents & service request management.
Provide L1 & L2 support and pass incident requests if escalated.
Some applications/areas are supported by other qualified groups outside IT help desk support. Offering basic self-service options for users.
IT help desk management system enables the business to:
Contact end-users to start proactive conversations.
Enhanced ticket tracking and first-come, first-serve basis.
Quickly resolve customers' problems in a hassle-free manner.
Gain insights into the end-users stance of the business.
Provide satisfying customer assistance.
Let's have a look at some common queries that an IT help desk services include:
IT-related customer queries.
Service-specific customer queries.
Software-related employee queries.
Hardware-related employee queries.
Product-related customer queries.
You can also opt for IT help desk outsourcing for the break-fix approach to customer service, resulting in transparent, collaborative, and efficient ticket resolution, including:
Incident tracking.
SPOC for every product-service lifecycle management.
Self-service option for end-users or employees for immediate assistance.
Problem management.
IT Help Desk Vs Service Desk: Which One do You Need?
If you are a small to mid-sized business looking to enhance the support experience of your clients and workers, then IT help desk services is your bet. And if you are a business with vast IT infrastructure, the IT service desk is your best choice.
Although, whether you choose IT help desk services or IT service desk, you should be able to acclimate to your specific business needs and provide top-notch service to your clients.
If we look at the IT Help Desk Vs Service Desk solutions, we can observe that one solution is generally for business improvements and another for customer care. So both IT Help Desk vs Service Desk can co-exist in a single enterprise even if they perform different operations & functions.
Service desk & IT help desk outsourcing depends upon the size, type, maturity & complexity of the internal process and the requirements of customers & businesses.
Now that you know the vital differences between the IT help desk vs service desk, you must pick the one that best meets your organization's needs.
If you are looking to grow your business focusing on strategy & service in IT, Infomaze offers a one-stop solution that will allow you to hit the ground running. Lay back and focus on your core business issues while we offer delightful IT help desk & service desk services.
---