Importance of QuickBooks Integration
Maintain accounting books, pay bills and manage your finances through QuickBooks Online or QuickBooks Desktop.
QuickBooks is one of the best accounting software that helps SMEs and enterprises manage their finances effectively and seamlessly. But, as much as QuickBooks (QB) is excellent software, from industry to industry, business to business, the workflow varies for every enterprise.
As a result, having custom software that perfectly molds to fit the business needs is undeniably an inevitable requirement. Hence, to reach the business's full potential, getting custom QuickBooks development and QuickBooks integration services become necessary.
The importance of QuickBooks integration is the amazing set of features it offers to enhance the user experience and improve business productivity. Let us see a few of the features that make QuickBooks one of the best-chosen accounting applications.
Mobile accessibility: Manage invoices and billings, see account information and manage your business efficiently on the go with the QuickBooks mobile app.
Seamless Integration: Connect with your bank accounts and cards to manage expenses and optimize your downloads and categorizations.
Dashboard overview: View all the accounting information, billing status, generate invoices, and make payments with a customized dashboard.
Automate spending: Manage your bills and cheques to vendors and purchasers by automating your transactions with recurring payments.
One-click reporting: With a single-click application, see how your business is performing, manage balance sheets, time tracking and running analytics.
Apps connectivity: Connect and sync your data with popular apps like TSheets, Shopify and PayPal. Eliminate the need of manual entry of data multiple times.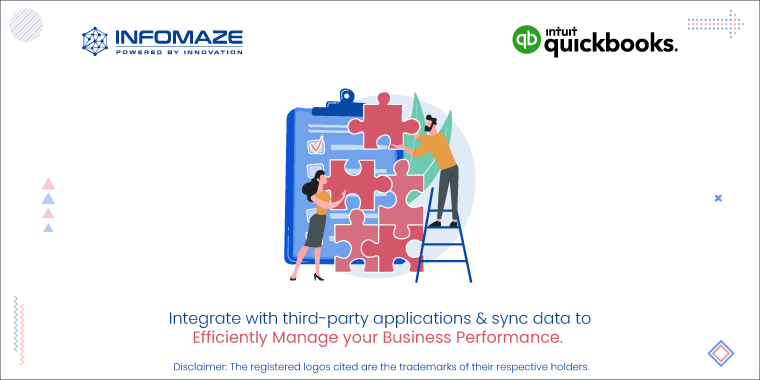 Benefits of QuickBooks Desktop and QuickBooks online integration for your business.
Multiple reasons warrant a business to opt for customizing QuickBooks. The top on the list is simultaneously operating QuickBooks Desktop and QuickBooks online with a real-time data sync. The other reasons being, as follows:
Many apps that improve the functionality of QuickBooks do not have an in-built API. The lack of integration between the applications leads to duplicate data accumulation due to multiple manual data entries and prone to errors.
Intuit's QuickBook API, Web Connector, is a qbXML API that is bulky, fragile. The absence of the original schema results in mostly breaking the app under development, further leading to extended time-consumption and cost-ineffective custom QuickBooks development.
Also, for the above reason, the integration using the qbXML API does not allow a user to utilize the QuickBooks software's full potential, including not being able to track the cost of sold goods, imports requiring manual action, and uneditable once uploaded, to name a few.
Businesses based in multiple regions face the difficulty of restrained functionality due to differences in business logic. Again, slowing down the workforce as more time and energy gets consumed in exchanging to and fro data through mails.
The above limitations advocate custom QuickBook development and QuickBook integration services that allow your business to reach unprecedented growth and new levels to break your industry records. Upgrade your accounting software today and enhance your business performance by taking advantage of QuickBooks integration.
Have you been facing similar issues that have been slowing you down in your progress?
QuickBooks integration and development - Here's what Infomaze recommends.
The team of developers you choose should have immense experience and expertise. Innovative thinking adds to the edge when understanding every nuke and corner of your business's workflow before coming up with a strategy for an agile methodology of developing a custom API for integrating two different applications of your choice.
For a high level of functionality in your integrated accounting software, it is essential to develop custom conditional logic that suits your business. And to build APIs utilizing QuickBooks .NET SDK with Visual Studios that fully support all the business processes in real-time.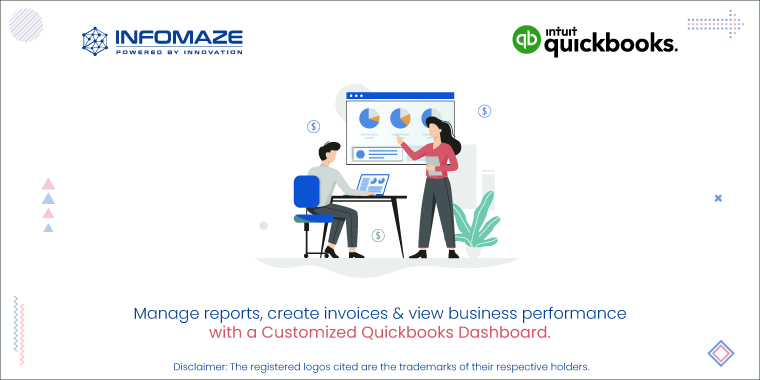 Why choose Infomaze as your choice of QuickBooks Integrations service provider?
Our developers take extreme care while importing/exporting data, be it Excel, XML, CSV, and conduct a planned, step-by-step application integration with CRM, ERP, and other applications that take your business to the next level.
We have the technical skills to work with QuickBooks Pro, QuickBooks Premium, and QuickBooks Enterprise, to name a few. And provide you with 100% functionality as per the plans, including track sales & sales tax, track income & expenses, invoice & accept payments, among others.
The recommendations we give are the kind of standards we set for ourselves and bring you the best integrations, be it with Zoho, Salesforce, Shopify, and provide real-time sync with other third-party applications. We provide cloud-hosting services that allow you to operate your accounting on your desktop or the web, on any operating system, be it Mac, Windows, Linux, etc., seamlessly.
---