Infomaze's Affordable And
Flexible Hiring Modules
We are flexible in offering our solutions, developers, and services per your business needs. Hire a remote development team and choose a full-time, part-time, or on-demand plan that meets your project needs.
Our fixed-cost module will provide quality solutions at an agreed cost. Check out our hiring modules for remote developers for your project, and share your requirements. We can lower your fixed cost and deliver state-of-the-art solutions per request.
Hire our Team now

Fixed Cost Project Based
Engage us to work on your project on a fixed-cost basis. We need the project's requirements, and our skilled team can take it from there. Your projects are provided on a milestone basis and undergo meticulous QA tests before delivering a well-written and tested solution.

Hire Remote Software Developers
Hire remote software developers for your project necessities and employ us monthly, long-term or hourly. You can start with a trial task and employ the team based on results. The price is more competitive with the time of engagement. We offer the best-dedicated team with a similar background to deliver top-notch results.

Hire Team on Demand
You may not require a part-time or full-time team to work on a task or project. This model lets you engage our remote development team on-demand to take care of immediate or critical needs. Our remote development team for hire can begin work immediately and strategically.
Project management process, our remote software developers follow:
Share Project Requirements
Call or drop us a line and share your creative ideas to let us understand your detailed project specifications.
01
Hire Remote Developers Now
Screen our talent pool and select from our remote developer's profiles list to work on your project.
02
Get the Project completed
We will keep you in the loop during the development process, from coding, designing, QA, and project management.
03
QA &
Testing
We will run detailed QA (Quality Assurance) tests on your apps for seamless user experience & error-free functioning.
04
Hire Remote Software Developers to Build Custom Applications for any Industry Sectors
eCommerce

eCommerce

Build competitively innovative eCommerce solutions for B2C or B2B consumers with the help of our dedicated remote developers.

Solar Industry

Solar Industry

Get the complete workflow automated and integrate all your solar business data assets into one single application by hiring remote software developers at your convenience.

Healthcare

Healthcare

With remote developers for hire, get HIPPAA compliant, secure integrations and custom workflow management systems, including ERP, CRM, and DMS, to boost the healthcare sector.

Real Estate

Real Estate

Get high-level data management for properties, taxes, and other impactful elements to handle your business efficiently with remote developers for hire.

Travel Agency

Travel Agency

Streamline your travel agency services through an integrated customized web-based application or website developed by our software developers per your needs.

Bank & Financial

Bank & Financial

Get the best remote financial software development services to providing your client's seamless financial assistance to improve Return on investment.

Education

Education

Get a highly organized document management application for your desktop or mobile to stay organized and manage the database in your administrative management.

Manufacturing

Manufacturing

Hire dedicated remote developers to integrate CRM or ERP systems into your current software to automate your workflow and boost your manufacturing business's productivity.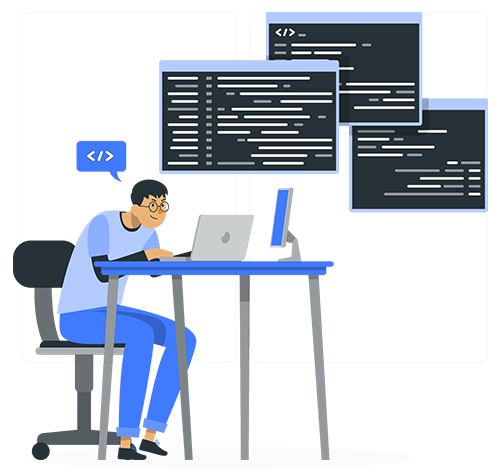 Why hire a remote development team from Infomaze?
We follow a rigorous selection process to check developers' backgrounds, soft skills, tech skills, and English fluency, which helps us to provide the best dedicated remote developers.

Our dedicated remote developers have the abundant industry experience to deliver a fully functional product on time without any bugs.

With the help of our experienced and proficient project managers and team leaders, clients can access, manage and suggest necessary changes at their fingertips.

Our remote developers for hire will keep you in the loop during the development cycle and provide updates via email, skype, and other communication channels you prefer.

We follow the best industry standard process, practices, techniques, and tools and take strategic decisions to overcome risk to be a long-term partner, not just a temporary vendor.

Our potential clients highlight our ability to provide high-quality service with excellent code quality at cost-effective rates maintaining great professional relationships with them.

Our remote development team will adapt to any necessary changes in the business process and adapt further as they evolve to deliver desired results without hassles.

Hire remote software developers according to your time zones and locations that overlap your working hours to enhance productivity.

Infomaze is an ISO 9001:2015 and ISO/IEC 27001 accredited company, and we believe in the principles of delivering the finest quality solutions to maximize ROI.
Got a creative business idea? Schedule a call
Salvatore

Project Manager
"Infomaze is the best technology partner any business could ask for, they go above and beyond to satisfy my business needs and they will do research and develop anything you need. I will never switch to any other company, may your success be our success! P.S. Gaj is the best."
Bryce

Project Manager
"Vic and the team at Infomaze are absolutely awesome to work with. Their price was fair and their professionalism is top notch. They spent more time waiting on me than I did them, and they were patient and courteous every step of the way. I would definitely recommend hiring them , and I will continue to use them for my future projects"
Jonathan

Project Manager
"I was very happy with the promises made and, more importantly, delivered. Quality code. Neat and organized. Ace assisted with the last tweaks to ensure I was a happy client. I would be happy to work with them again on my next project."
Gerhard

Project Manager
"The project thus far was not complicated and we are continuing to the next phase. My experience with Vik to date: Very good service – friendly and helpful with" high level of technical understanding and competence. Listens to what I want, makes suggestions where appropriate and delivers very quickly.