Built A POS System for Retail Business with Zoho Creator – A Case Study
The Client: Retail tobacco products seller
The client is a reputed retail tobacco seller in Australia. And the client came to Infomaze with requirements for our Zoho creator certified developer to create a Zoho POS system for retail business to manage all purchase and sales orders of their business. We helped them by providing a solution by adding features and functionality to streamline their tobacco business process.
The Challenge: Manage, track, view, and process the sales and purchase orders
The client had been managing their inbound and outbound flow of stocks through tedious and head-scratching manual data entry, which is time-consuming, and error-prone. So it's vital to create a Zoho POS system for retail business to add, manage, track, and process orders in Zoho without a license to streamline operations and run a more productive and efficient business.
The Requirements: A One-stop solution for inventory management
The client needed a customer portal using the Zoho creator application to create a well-planned stock management strategy that connects these dots, keeps the data secure, and helps a business satisfy its customers without delay, including:
QR code scanning
Sales order and purchase order
Complete stock management
Pay using card
Add users to the application without having a Zoho license
Our client came to Infomaze with the challenge and requirement in hand and anticipated an efficient, user-friendly, and single-platform Zoho POS system for retail business to organize their inventory process.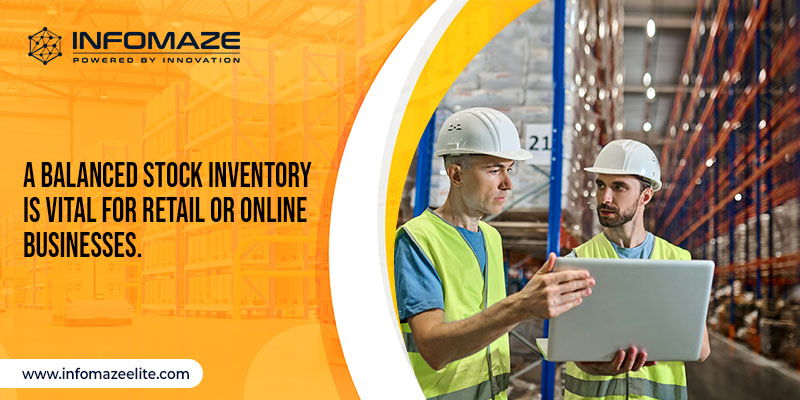 The Solution: Created a powerful POS system for effective stock management
The client's retail businesses depend on balanced stock inventories, so our skilled and experienced Zoho creator developers created a more effortless and faster Zoho POS system for retail business to manage the purchase orders from vendors and sales orders to the customers.
We have created a store application using Zoho Creator where a store manager or employee doesn't need a Zoho license to access the application. The user needs to open his email, click on the URL, and log in with the unique PIN code.
We added the existing "QR code scanner" functionality in the Zoho Creator application, where a store employee can add the customer-chosen products into the cart just by scanning the bar code using the bar code scanner device.
The store staff can modify/delete the quantity in the cart according to customer requirements. The cart displays all the product details, such as brand name, product name, quantity, unit, and price.
The store employee can view all his available and remaining products/items in a single application and send a notification to the vendor if there is a low stock level of stocks. Similarly, the employee or staff can sell the products to customers by adding them to the cart and checking out with cash or card payment to generate accurate invoices. Overall, the client benefitted from the Zoho POS system for retail business, which provided an efficient POS stock management system.
The Result: Improved business productivity with the POS system
Our Zoho Creator certified developers successfully created a complete stock management Zoho POS system for retail business for our clients where they could seamlessly run their tobacco business at their fingertips without any hassle and make insightful business decisions.
Store employees or staff can access the portal without a Zoho license. The POS system monitors, manage, modify, tracks, and processes restocking in your store, so your inventory is never empty. Automatic purchase orders will be sent to vendors when the stock level drops to zero.
Make knowledgeable decisions by keeping an eye on bestselling products and periodic sales. Track metrics, forecast sales trends, schedule staffing effectively, and make data-driven decisions.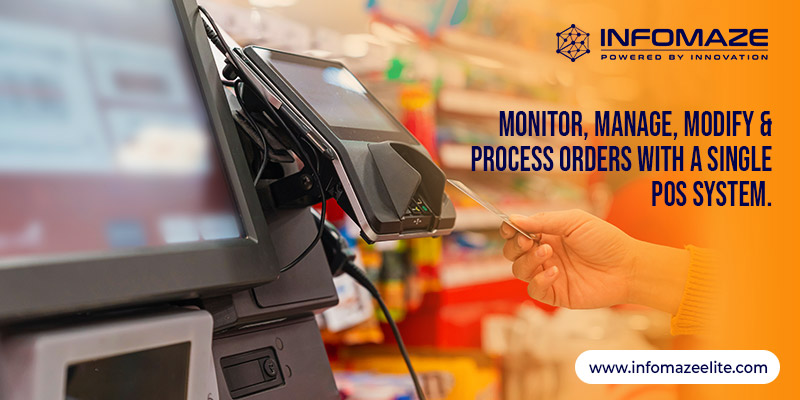 Use barcodes on the products to scan products and generate bills of sale. You can generate the invoice instantly and send it to customers through email. Overall, our clients increased their business productivity, efficiency, and ROI.
With our abundant experience as an authorized Zoho Creator partner, we provide our clients with a state-of-the-art solution with reduced turnaround time. Our client was pleased with our high-quality services and planned to return to Infomaze for other complex business solutions they might require.
Why choose Infomaze for creating a similar POS system for your business?
With Zoho POS system for retail business, we help you manage, modify, track, create products, maintain orders received, and deliver orders from a single application. Try out what's most suitable for your business without losing control over your inventory and without having a Zoho license for store users to maintain.
Hire Zoho creator developers with abundant skills and experience in creating a user-friendly application for managing the inflow and outflow of stocks in your particular store.
Infomaze has been an authorized Zoho creator partner for years. Our Zoho creator-certified developer helps streamline your business processes and efficiently increase performance and productivity for various industry sectors while achieving cost savings.
---