Why Should You Hire PHP Developers for Your Next Web App?
Hire Dedicated PHP Developers to Accelerate Project Delivery and Add Business Value
Do you know? Surveys conducted suggest that around 79.1% of the websites worldwide works on PHP. PHP development services proved to be one of the most practical and robust techniques globally to create top-notch websites and web applications.
PHP stands out in developing a perfect website or web application, and its beauty lies in its flexibility and ease of use. Is your well-established business looking to build a PHP-based robust web application or website?
Many content management systems or CMS such as Drupal or Joomla also use PHP. Facebook still uses PHP, so does WordPress, Wikipedia, Slack, Tumblr, and Esty, to name a few.
Modern technological advancements are multiplying every day, and it has become vital to create reliable and robust frameworks compatible with most web servers with security and cost-effectiveness. And PHP covers all the bases mentioned above.
Infomaze has experienced and dedicated PHP developers for your business to get the best results out of it. In addition, only a professional PHP developer will understand how best to develop a custom website or application tailored to your business requirements through PHP development.
Hire Our PHP Developers to Build Feature Ready Website and Application
Infomaze uses the latest version of PHP, version 7.0, which has proven to be one of the most popular hosting platforms to build web applications that are scalable, reliable and affordable.
Now that you know how reliable the technology is, all you have to do is hire a PHP developer to work on your high-functioning site and deliver quality business solutions.
In an attempt to give you some insight, here are several reasons to explain why there is a high demand to hire dedicated PHP developers from Infomaze.
PHP developers are available at affordable costs. Our PHP developers have a minimum of 3+ years of experience and advanced training to build an application as per your requirements.
Many businesses think that the cost of hiring a PHP developer will be a strain on your budget, but in reality, you save money when compared to employing and training a couple of programmers from the start.
The main feature of PHP is cost-effective execution. PHP is open-source, so the cost reduces when working with PHP frameworks. Infomaze's PHP development services are reasonably priced, making them more affordable for your business.
Businesses know about customers and plan to execute their operations. Our skilled PHP developers have experience in different technologies and frameworks to kickstart your business conquests.
Profound technical expertise is a must-have for successful PHP web development services. Our developers have profound technical knowledge, which helps build the most dynamic, well-functioning and smooth applications that suit your business needs.
Hire our dedicated PHP developers with in-depth experience and vast technical expertise to deliver a creative, innovative, and passionate approach to completing the project by incorporating best practices.
One of the many benefits of this technology is a vast community of skilled and experienced developers sharing innovative ideas and knowledge.
You will be able to take advantage and grow from the applications developed using PHP, as our developers have expertise in custom PHP development that fits your business and handle your project development creatively and passionately.
Our PHP developers expertise and knowledge in custom PHP development with different industry verticals deliver top-notch solutions using the latest tools and technologies.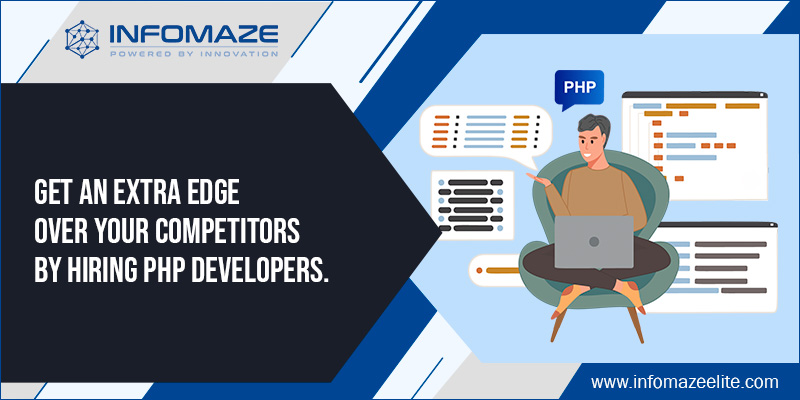 When developing a website, having crucial knowledge and experience is vital. Hence, opting for a company that can provide the needed experience is a must. Otherwise, the outcome may turn out to be a costly affair.
Whenever you hire PHP developers, you can choose if you want the project handled by a whole team or a couple of developers and designers. Our PHP development services guarantee timely project submissions, so you get an outstanding product at a competitive turnaround time.
You can adhere to the deadline and get a cost-effective solution, and PHP developers are always ready to deliver scalable enterprise-level web applications.
Testing is the highest priority in PHP web development services because a single error or fault in the application can make the whole framework crash.
To avoid this head-scratching problem, our in-house dedicated and experienced PHP developers will assist you throughout the process with prioritised customer satisfaction.
A developers work does not end once the website or application is error-free and ready to deploy. The most crucial stage is when implementing the solutions. Any unexpected errors or issues that you may come up with is handled immediately with the help of our PHP developers, who ensure you never face any downtime.
With diverse experience and expertise, our dedicated PHP developers have service ethics to solve problems professionally, stick to the project schedule, and complete the project on time, meeting all the deadlines.
Our PHP developer have regular conversations and meetings with designers, project managers, executives, and other company stakeholders. Hence, our developers have excellent communication and soft skills besides core technical skills.
Therefore, hire PHP developers who can solve challenges professionally with excellent communication skills to achieve robust applications and deploy web apps efficiently.
The COVID-19 pandemic that impacted global businesses led to remote working. Infomaze has adapted and trained employees to work remotely and efficiently.
Infomaze allows you to access the project from remote locations at both ends. Therefore hire dedicated PHP developers who are available online when you need them to complete the project with tremendous speed and agility.
As we have worked with top clients worldwide, it's easy to adapt to any time zone. You will monitor progress, analyse their ideas, and discuss your plans, ultimately ensuring the successful completion of the project.
Ready to Start Your Dream Project?
Thus, Infomaze's PHP developers are the most talented and dedicated developers who are well-versed in different types of frameworks for your small or large enterprise-level projects.
Infomaze is an ISO 9001:2015 and ISO/IEC 27001 certified company, so investing in an experienced PHP developer or a team of PHP developers will yield the highest ROI and profit margin.
Do you have a project specification on your mind that requires our PHP developers assistance? Feel unrestricted to contact us and get our friendly PHP consultation services.
---