Why Should US Companies Consider Hiring Zoho Developers from India?
We use various technologies to accomplish daily tasks in our lives. Primarily in the US business sector, many industries are looking for a multi-channel, multi-purpose, and convenient solution to handle all business processes efficiently.
US companies should consider hiring Zoho developers from India regardless of their industry to get seamless and efficient automation in everyday business. certified Zoho developers with experience and skills in developing solutions based on Zoho.
Zoho is a versatile, popular, and highly customizable SaaS platform for businesses that provide a single platform to analyze and perform multiple operations, integrations, and customizations to suit your business needs.
Hire Zoho experts to work extensively for your unique projects to handle its CRM, CMS, and web applications effectively and get the solution developed within time and budget.
Hire remote Zoho developers in the US with abundant technical experience across various industry verticals and access industry-specific business expertise in flexible hiring modules accommodating your business needs.
Let's learn more about Zoho developers' roles and responsibilities, reasons, benefits, and processes in hiring Zoho developers from India.
Primary Duties of a Zoho developer
Now you know about Zoho, it's time to learn more about Zoho's developers' primary roles and responsibilities.
Examine and analyze the business requirements and needs of the particular teams.
Build, structure, and customize modules, integrations, and other Zoho solutions to meet the specified requirements.
Run meticulous tests and handle the operations of the custom Zoho development solution.
Provide inputs and improve the system for more productivity and timely operation of various departments within the organization.
Stay updated with the Zoho latest technologies and related updates and execute the required modifications accordingly.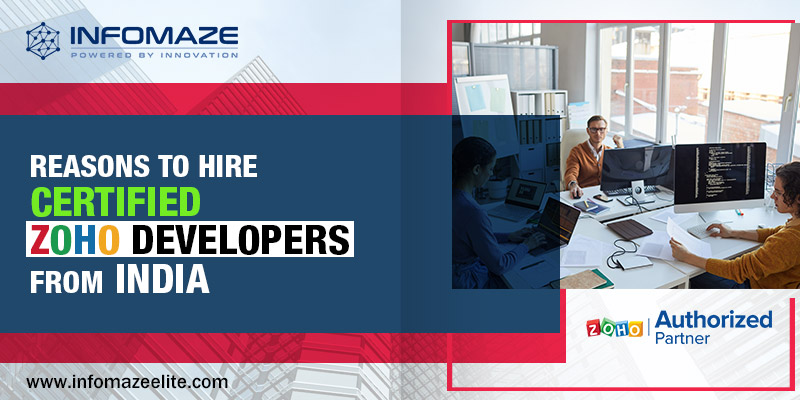 Reasons for U.S. Companies to Hire Certified Zoho Developers from India
India is the largest provider of IT outsourcing in the world, and we deliver the best quality at cost-effective rates.
India is the second largest English-speaking country in the world and doesn't require time zone adjustment.
India is the number 1 destination of employment in the IT industry, and our programmers are the most reputed creative problem solvers.
India's IT and software industry is growing at a breakneck pace, and below are the important reasons to choose Zoho development services.
You need a versatile platform for all your internal departments to work effectively and conveniently.
It would be best if you had a personalized solution created according to your business process and needs.
It would help if you had specific functionality to enhance business productivity and performance.
You need a highly robust, flexible, and scalable suite that instantly accommodates your current business objectives and changing circumstances.
Benefits of Zoho Development Services
Here is why it is worth considering Zoho development, integration, customization, and implementation services by hiring Zoho experts that benefit your business operations and achieve desired goals.
You can create various solutions for your unique project requirements, such as Zoho customer support modules, marketing, sales, and more.
Connect and integrate with more than 40+ Zoho applications for a unified business management system that all teams and departments can use.
Access to Zoho custom-ready templates and efficient automation tools to boost work speed by hiring Zoho developers in the United States.
The Zoho organization has recently launched its new cloud suite called Zoho Remotely to intercommunicate and cooperate with teams, provide remote service to your clients and keep track of work anywhere, anytime.
The Process involved in Hiring Remote Zoho Developers in the United States from Zoho Authorised Partner
Infomaze is a Zoho authorized partner and flexible in delivering Zoho development services, solutions, and skilled developers for hire as per your business requirements. Hire Zoho developers in United States and choose a full-time, part-time, or on-demand plan for the timely submission of projects.
You can only experience it if you work with a certified Zoho developer from an authorized partner. The below steps are the Zoho project management process our developers follow:
Share project requirements

Give us a ring, email or fill out the form and share your business requirements in detail to let us understand your exact needs.

Hire Certified Zoho Developers

Based on your project needs, screen our talented pool of developers from a list of experienced Zoho developers to match their skill sets and technologies.

Choose a hiring module

Finally, choose our flexible hiring module and hire Zoho developers from India for full-time, part-time, or on-demand comfortable for your business requirements.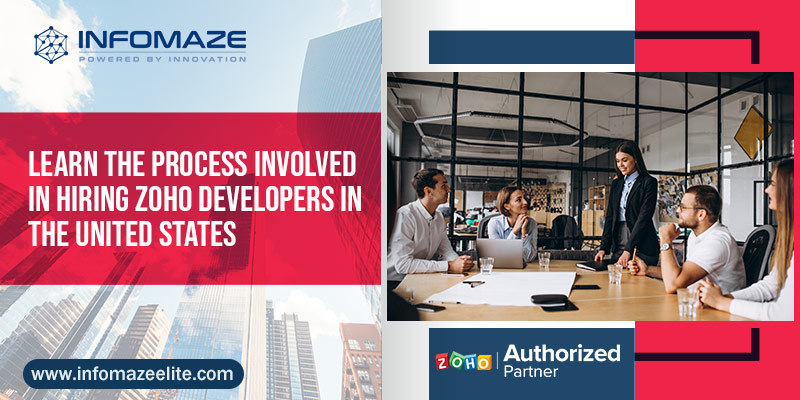 Get the project completed

Depending on your chosen hiring module and approval of cost for your project, our Zoho developers from India will start working and keep you in the loop from designing, coding, project management, and QA.

QA and Testing

Once your project is complete according to your requirements, we run multiple QA tests for successful implementation and deliver well-written and tested solutions.
That's how our flexible and affordable hiring process saves your precious time from a Zoho-authorized partner company.
As a Zoho-authorized partner, we have developed many successful live projects with Zoho solutions. Hire Zoho developers from India to work on your unique projects and help clients automate their business processes of any level, regardless of their complexity.
We possess high-level experience working for many businesses and getting their applications built at an affordable price. Reach out to us to use most of the latest Zoho features for all the custom business solutions we create or customize.
---