Why Mobile Application Should Be Your First Focus
In today's fast-changing digital world, mobile apps have become essential for businesses of all types and sizes. As more and more people use smartphones worldwide, companies now understand the need to focus on creating attractive mobile apps.
No matter if you're a small business, a medium-sized company, or a big corporation, you'll inevitably face your own unique set of difficulties
For start-ups, the biggest challenge can be finding a solution that they can afford. That's where a mobile business app, which only requires a small investment, can be really helpful!
Every journey begins with a single step. As a start-up, you have many choices to establish your presence in the industry. So Why not begin with a mobile app and then grow into a fully developed website that everyone around the world can access.
With more than 22 years of expertise in the IT industry, Infomaze is one of the top mobile app development company in India. We have successfully created over 360 web and mobile solutions for clients from different sectors, earning us a strong reputation for quality. Our skilled team of mobile app developers specializes in cross-platform mobile development, including android, iOS, and more.
Our skilled mobile app developers, who work on multiple platforms including Ionic, create appealing and scalable mobile apps customized for businesses of all sizes.
Whether you're a new business, a growing one, or an established company, Infomaze is here to make it easy for you to create mobile apps. We'll turn your ideas into reality and empower your business for success in the digital realm.
The key reasons why mobile applications are a top priority and how they can boost your business success
Smartphones are very appealing because they have become essential in our lives. People use them to communicate, get information, have fun, and do much more. They are easy to carry around and have changed the way people behave, as more people now use phones rather than desktop computers. If you concentrate on mobile apps, you can reach and interact with a large number of users who use smartphones regularly.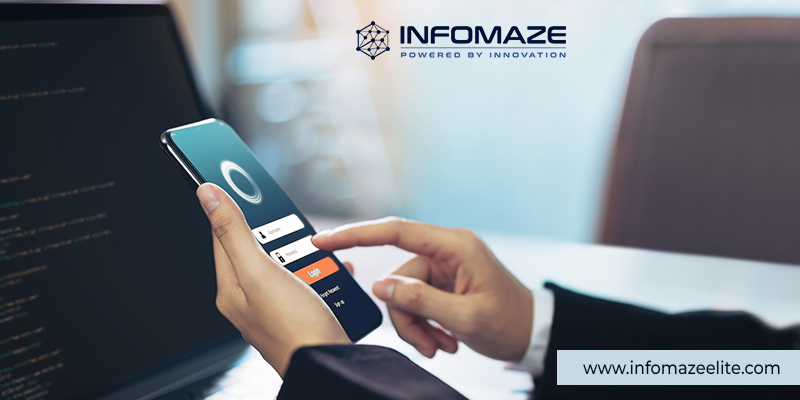 Mobile apps are designed to be very appealing and enjoyable for users. They offer a smooth and engaging experience that goes beyond regular mobile websites. By using the special features of smartphones, like push notifications, location services, camera integration, and offline access, you can give your users a personalized and customized experience. A good mobile app can make users happy, keep them coming back, and help you retain your customers.
Having a special and dedicated mobile application for your business makes more people notice and remember your brand. When users see your app icon on their phone screens, they are reminded of your brand, helping them recognize and remember it easily. Additionally, mobile apps let you showcase your brand's unique look, colors, and logo, creating a consistent and unified brand experience.
Mobile applications help you easily connect with your customers. Push notifications let you send personalized messages, updates, promotions, and offers straight to their phones. This way, you can stay in touch, build relationships, and keep users engaged.
Mobile apps have many exciting features that make people want to use them more and keep coming back. These include buying things within the app, special rewards for loyal users, gamification elements, and exclusive content. These things encourage users to use the app often and stay connected to your brand. When you offer extra helpful services, personalized suggestions, and easy-to-use features, you build a group of loyal customers who love your brand and drives word-of-mouth referrals.
Having an appealing and effective mobile app has become essential in most industries. It helps you stand out from competitors by showing your commitment to innovation and meeting customer needs. This demonstrates that your business is modern, customer-focused, and ready to adapt to changing trends. As a result, you can attract more customers and set yourself apart from the competition.
In today's world where everyone uses smartphones, it's crucial for businesses to focus on mobile apps to grow and succeed. Mobile apps can reach a large number of users, improve the user experience, make your brand more visible, and keep customers engaged and loyal. By investing in mobile app development, your business stays ahead in the digital revolution and opens up new opportunities for growth and profit. Embrace mobile apps and unleash your business's true potential.
---