Which is the better CRM Software, Zoho vs. Salesforce?
An overview: Salesforce vs. Zoho CRM software
If you are here reading this, it means you are asking the right questions, that being, 'Which is the better CRM software, Salesforce vs. Zoho?'. We are all aware of what Salesforce CRM and Zoho CRM software are, but for those who are starting a business and this is all new, here's a brief introduction for how useful the two software are in running a business seamlessly. You can skip reading the next paragraph if you are just here to compare Zoho CRM vs. Salesforce CRM software.
Salesforce and Zoho are two Customer Relationship Management (CRM) software solutions that eliminate spreadsheets' use and the hassle involved in maintaining the data in spreadsheets and the time involved in reaching an insight through data analysis while making a business decision. Here is where the two software, Salesforce CRM and Zoho CRM, come in handy. The CRM software helps manage all your business leads and prospects data, inventory data, tasks, accounts, contracts, products, and much more while saving time and workforce and helping to improve and run your business seamlessly. The two software also provides insightful dashboard reports to reach impactful business decisions.
So, Salesforce vs. Zoho, to compare the two CRM software, we are considering the following factors:
Client focused and economical budgeting.
Experienced team of IoT developers.
100% satisfaction guarantee.
Rapid results.
Highly secure solutions.
Let us go about each of the topics, as mentioned above in detail, one after the other to decide which is the best CRM software.
If you want to skip reading further and directly contact and discuss with our CRM consultants, feel free to contact our knowledgeable consultants to get our CRM consulting services for free.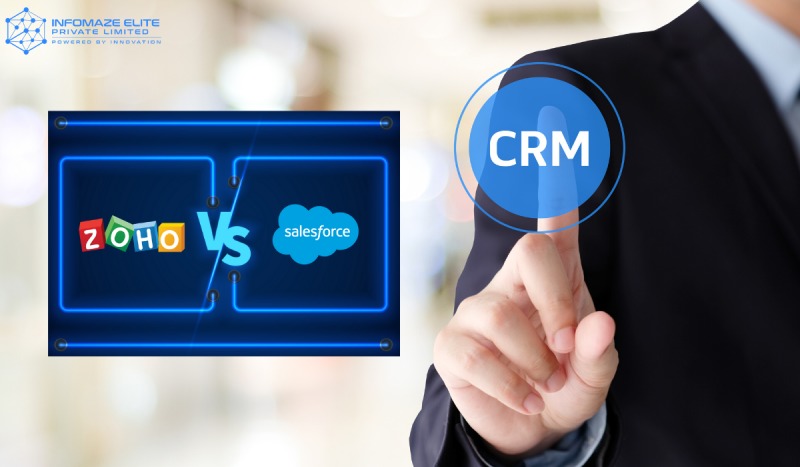 Zoho vs. Salesforce, the packages available

While Zoho CRM software also offers four levels of packages- standard, professional, enterprise, and Zoho CRM unlimited edition, it also provides free software with the same features as the standard with limited users. They are available at a reasonable price, making it a suitable CRM software for small businesses and, at the same time, a good investment for large enterprises as it is available both on a monthly and annual basis.

Salesforce CRM software has four levels of packages- Salesforce essential, professional, enterprise, and unlimited. Although, the Salesforce essential comes with bare-minimum features and you will have to pay more for the add-ons that you require. The same is true for the other packages too. These packages make Salesforce CRM an expensive expenditure for small businesses or a thoughtful long-term investment for large enterprises, as only an annual plan is available.
The Features-Zoho vs. Salesforce

Zoho CRM software, at the same time, is incredibly easy to use with its simple user-interface. Also, as Zoho CRM fits perfectly for small businesses, it does not require as many customizations, which leads to a quick implementation process.

Salesforce CRM software is remarkable but involves a learning curve that might delay the implementation of the solution. But, once that is complete, there is no stopping you in reaching exponential growth in your business.
Both the CRM software provides excellent native mobile apps and a variety of functional features for Android as well as iOS mobile platforms.
Integrations-Zoho vs. Salesforce

The Zoho CRM system stands apart because of the social media integration, that offers easy access to follow and stay always updated with what your leads are interested in to get a better sales forecast.

Salesforce, as well as the Zoho CRM system, has numerous integrations to offer and are almost toe to toe. Both the software allow various third-party integrations as well.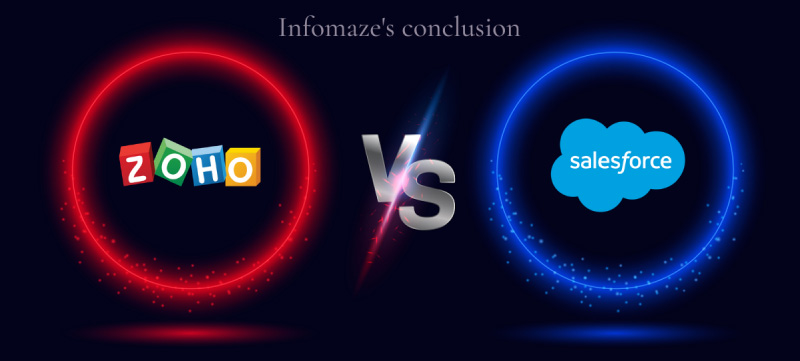 Conclusion: Zoho versus Salesforce CRM solution, which CRM system is the best? Who wins?
At Infomaze, we believe in providing better user experience (UX) and hence recommend the best CRM that fits your business needs. If you run a small business, we recommend you go with Zoho as your first choice as an alternative to Salesforce CRM, while for a large enterprise, we advise you to go with Salesforce. Although this is no strict rule, and depending on your project specification, we will choose the right CRM software solution for you.
Both the software walk side-by-side on the whole, and it all comes down to choosing the right option wisely, and this is where we can help you select the right CRM software, be it Salesforce customization or Zoho customization services. Feel free to contact us. We provide quality consulting services for free or minimum cost with no obligation whatsoever. 
Are you looking for a Salesforce/Zoho CRM software solution?
---