US Companies: Why Should you Consider Hiring PHP Developers from India
Do you know more than 79% of websites work on PHP? PHP is a server-side programming language and the most widely-used scripting language, and WordPress also uses PHP. Around 35% of websites on the internet are WordPress sites.
Many IT giants use PHP, including Meta platforms, Wikipedia, Tumblr, Slack, MailChimp, Etsy, WordPress, and many CMS systems such as Drupal, Joomla, Magento, Opencart, OctoberCMS, ExpressionEngine, and more uses PHP.
There are many vital reasons for the popularity of PHP according to their business needs and technical concerns. Still, it has several benefits, including compatibility, robust frameworks, security, cost efficiency, and ease to use, to name a few.
Now you know the technological reliability, it's time to hire PHP developers from India to start working on your unique project per your business requirements to build high-functioning, advanced, and scalable web applications.
PHP released the latest version, 8.0, in November 2020 to unleash new features and capabilities of the platform. Thus, if you want to build more robust applications, hire PHP developers in the US for your unique project requirements.
To get the best benefit from this venture, you need to hire PHP programmers from India who knows the platform and can customize your application according to your business needs.
In this blog, let us discuss a PHP developer's role and responsibilities and why US companies consider hiring a dedicated PHP developer from India.
Primary Duties and Responsibilities of a PHP Programmer
A dedicated PHP developer who has many roles and responsibilities other than writing codes, building responsive applications, code fixing, and managing back-end services; these experts need to follow: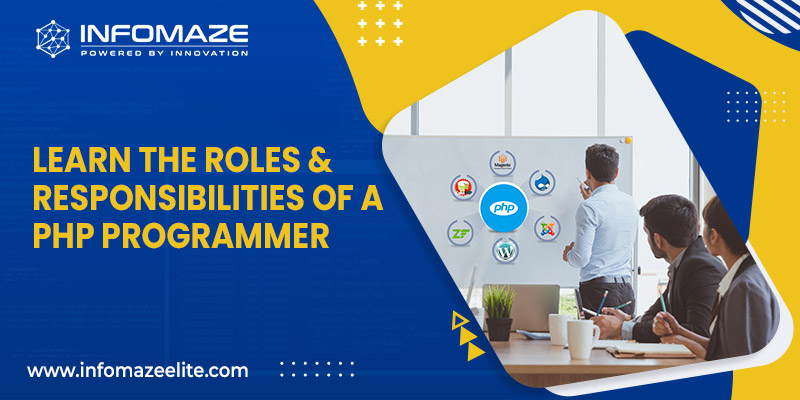 Build and publish websites, web applications, and programs within time.
Add new features or customize existing applications to ensure timely updates on applications.
Manage compatibility problems on software program versions and various browsers.
Acknowledge various issues found in the websites or applications based on QA tests performed on various devices and browsers.
Discuss and work with the development or project team to determine and evaluate software solutions.
Suggest appropriate changes that can enhance the website's productivity and performance.
Choose the most relevant design tools for applications, coding languages, or CMS systems.
Perform operations on eCommerce, CMS development, API, and web portal development.
Create plans to keep the websites updated and troubleshoot source code or security issues.
Know the Vital Reasons why US Companies should Hire PHP Developers from India
Hire PHP Developers for their Advanced Knowledge and Skills

Hiring PHP developers from India has various benefits because a company might know about handling business processes. Still, programmers know the technical skills and expertise in technology to build scalable, dynamic, and well-functioning applications for kickstarting your business venture.

Hiring PHP programmers doesn't cost you much

Rather than hiring an in-house developer and providing training, which is time-consuming and requires more money. Hire PHP developers from India with abundant experience and training in developing dynamic web applications cost-effectively. Hiring offshore developers is best for startups or if you are working on a tight budget.

Hire PHP Developers to Provide Necessary after works as well

A PHP coder's work is not over once an application or website is created. Yet, there are still more vital jobs to complete, such as implementation, testing, and support. QA testing is the most crucial task in PHP development because one single error can crash the framework and halt the entire development process. Their experience will manage these issues so you can have peace of mind.

Hire Dedicated PHP Developers to submit Projects on time

If your unique website isn't ready as per your business requirements, it will cost you more money and delay other factors of your business. But when you can hire remote PHP developers in the United States, you can ensure timely project submissions and get outstanding products without squandering time and money.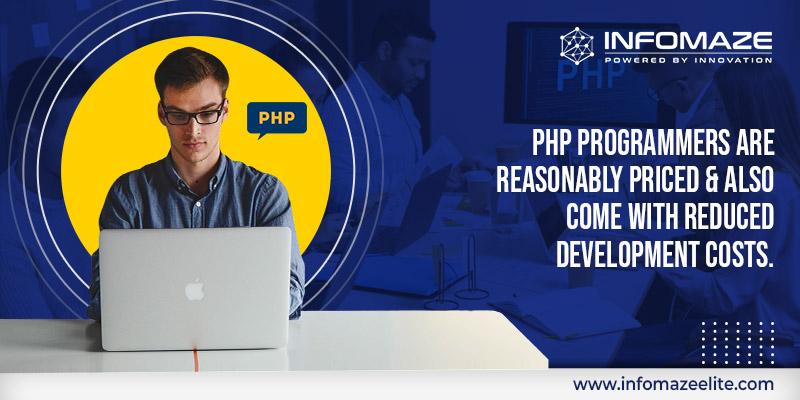 PHP Developers have the Best Community to Guide them

In the modern day of rising technology standards having the best community of PHP developers to share knowledge and ideas to solve issues quickly is an advantage. Our dedicated PHP developers adopt community engagement to solve problems or queries in no time.

Hire PHP Developers in the US who can work from anywhere

No matter the distance, be it outside or local, our dedicated PHP developers are equipped to work from anywhere without any bar and are available when you need them to access the project even from distant places worldwide. Monitor the progress, discuss ideas and plans, and make necessary changes to complete the project effectively.
If you are looking for passionate, enthusiastic, and ambitious individuals, hire PHP developers from India to execute a wide range of tasks to establish a seamless customer experience for end users using your applications or websites.
With 20+ years of experience, we follow the leading industry practice and advanced technical skills to fit your business requirements. Call us today and discuss the engagement module to hire remote PHP developers outside the US.
---