Top 10 Reasons to Customize POS System in Zoho Creator
A POS system is vital for managing retail or online businesses' purchase and sales orders. With the Zoho POS system, you can centralize all your business operations and stay on top of everything from purchasing to warehousing to return processing.
Our Zoho Creator developers have built a complete Zoho POS system for retail businesses using Zoho creator to personalize retail business requirements.
Bid goodbye to the time-consuming and tedious manual entry task for your business and install a POS system created in Zoho creator, a one-stop solution for managing, tracking, viewing, and processing the sales and purchase orders to streamline operations for a more productive and efficient business.
Let's look at the factors to customize the POS system according to your business requirements, from ordering goods, selling goods, refilling stocks, and automating purchase orders and invoices using the Zoho Creator application.
Zoho Creator is a low-code multiplatform customized application builder that enables anyone to design, develop, and run any business software they require. It also enables retailers to automate complicated business processes and integrate third-party services and payment gateways.
With Zoho Creator, vendors can deliver retail applications faster and digitalize their retail management processes. Due to its flexibility, auto-scaling, and high-level security, it can manage all types of primary and critical business processes.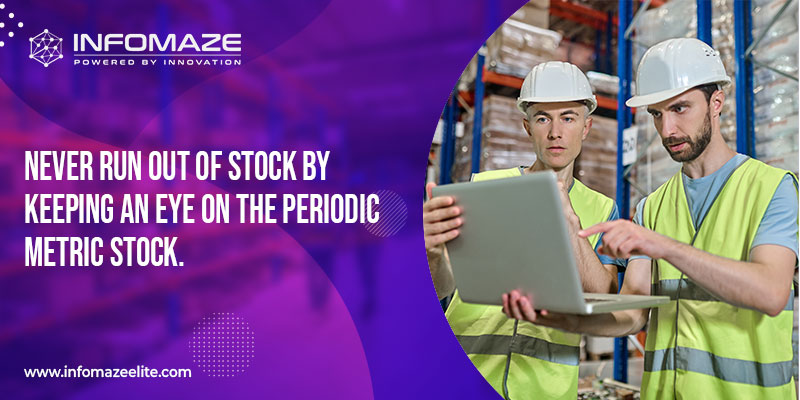 Reasons for customizing Zoho POS for retail business
A POS system has all the vital functions that suit a retail business's needs, such as stock management, customer loyalty program, and more. But the primary benefit of Zoho POS for retail is automating time-consuming and repetitive tasks such as billing, inventory, purchasing, accounting, audits, return processing, and more.
Our Zoho Creator developers have built a dynamic and user-friendly Zoho POS system that provides users with real-time reports and tracks stock levels, most sold product trends, consumer buying patterns, and marketing campaigns, so your inventory is never empty.
With the Zoho POS for the retail business, you can save time by reducing the number of procedures and eliminating manual tasks. Make quicker payments with point-of-sale software. The employee or staff picks the items the consumer wishes to purchase. The Zoho POS system automatically calculates the prices with quantity, and product name.
Zoho POS system is customized to your retail business-specific needs to manage your purchasing orders effectively. Also, you can send automatic purchase orders to your suppliers when the stock levels drop below the minimum value, which helps to track your purchases better and keep the required amount of goods in the shop to reduce losses.
A Zoho POS system for retail businesses built by our Zoho Certified developers will help you tailor the shopping experience for your customers. Using their previous purchase order, you can lead the customers to buy the goods they are interested in. To improve customer satisfaction, you must offer a product that matches their tastes and preferences.
Optimizing staff is difficult in a retail business, so having a Zoho POS system will make the tasks easier and optimize employee schedules for a productive workflow. Protecting company data is essential, and only authorized personnel can access the organization's data. With the Zoho POS system, your data is protected from unknown intrusion.
Use the bar code scanner to scan the products and generate bills for sale. Send invoices to your customer via email. The staff can sell the products to customers by adding them to the cart checkout with cash or card payment. You will receive an invoice electronically.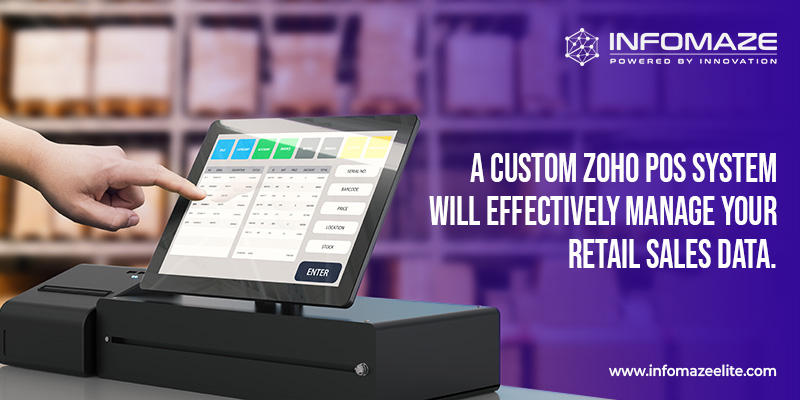 Make informed decisions by setting up your business with Zoho POS integration, which will help boost and maintain customer relations effectively. You can track purchase behavior to offer discounts and offers to regular customers and automatically notify them about the next biggest sale or events and discounts on festival seasons.
As Zoho Creator partners, our POS system includes a cloud-based point of sale where you can access the company's data from anywhere, anytime, with top-level security. You can keep track of your stocks and operations in real-time even if you are not present in your office, and your data is protected from unknown threats or natural calamities.
With our QR code scanner, the retailer can accelerate the checkout process and quickly analyze potential consumer buying patterns to offer automatic discounts and implement upsells. Provide better customer service by offering detailed receipts that include information on the transaction, loyalty program, sales return policy, and store.
Hire Zoho creator developers from Infomaze with abundant skills and experience in creating a dynamic and scalable POS system using Zoho creator to manage the inflow and outflow of stocks of your retail business. Infomaze has been an authorized Zoho creator partner for years. We have helped various industry sectors with Zoho POS integration to streamline their business process efficiently and effectively at cost-effective rates.
---