Tips to Hire WordPress Developers from Overseas for US Companies
Commonly seen as just a blogging platform, WordPress allows companies to start creating their own websites with its relatively easily operated website builder. Hire WordPress developers in the United States to utilize the website builder for customization, scalability, and flexibility and also has a great content management system, allowing users to upload, edit and post content quickly.
Hire WordPress developers in the US to create and maintain various online avenues – blogs, community sites, E-Commerce, news and magazine sites, business websites, booking systems, directory sites, etc. With WordPress being such an integral part of the business, the demand to hire WordPress developers in the United States also increased.
Why WordPress for your Business
For any business, small or big, creating accessible online presence is a very important part of growth. Most people are now turning to the internet for all their needs, especially with the pandemic, so having a well-developed and easy-to-use website is the best way of reaching more customers.
In 2021, almost 40% of all websites were powered by WordPress, making it the leader when it comes to helping people start their own websites. In those, 27 million websites, 34.29% of them were from the USA. Companies from various fields in the US, like Envato, Yoast, Caseproof, Modern Tribe, etc., are all WordPress success stories. The need to hire wordpress experts has also touched the roofs as they can not just design and develop the websites but also scale your content too.
A WordPress developer is someone who is skilled with both back-end and front-end development, and helps owners design custom themes and plug-ins. The one who is well-versed with different programming skills while also having a well-rounded sense of design and aesthetics in order to make a website that is pleasing to the eye and connected to the business.
What Skills Should you look for when you Hire a WordPress Designer?
When looking to hire a dedicated WordPress developer, you should be looking at the different requirements you have for your website.
If you want a website that has tons of plug-ins, and allows consumers to buy directly, you might require someone who has experience with that, but if you want a website that is more content heavy, you might be looking for someone who can help beautify the page and make it flow well.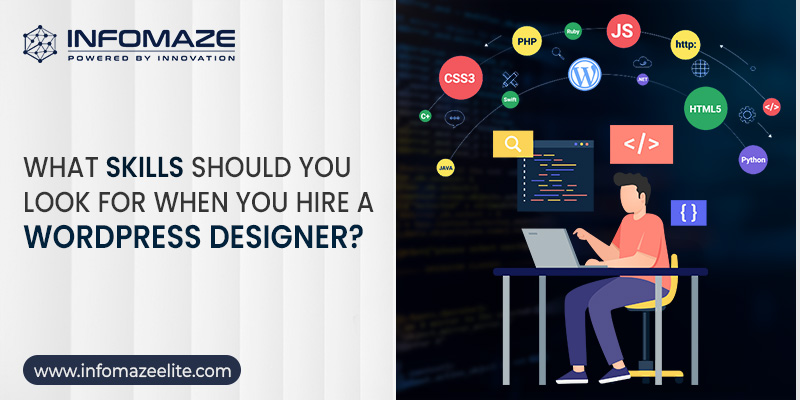 Some Hard Skills to Look When you Hire a WordPress Expert are:
Knowledge of Javascript coding
Knowledge of HTML
Knowledge of Bootstrap
Understands Responsive Web Design
Has knowledge of best SEO practices
Has previous practical experience
Has experience with UI/UX
Has a strong portfolio, preferably including websites for similar products
Has understanding of tools like Google Analytics, SEMRush, Majestic, Screaming Frog and Moz (SEO tools)
Has knowledge of how to create themes and execute customisation.
Some Soft Skills to Look for to make Working Together Easier:-
Good communication skills
Ability to grasp how your business works
Creative approach that leads to authentic work
Understanding of your objectives for the website.
How to Hire a WordPress Developer in the United States?
If you're in the United States, you might have already spent a lot of time trying to look for a developer to help you out but failed to find the right one due to high costs, low experience and lack of developers.
This is why even if you want to hire a WordPress developer in the US for your company, you should consider looking at the variety of options you have abroad. Developers are big fans of working remotely, it allows them flexibility and the ability to choose whatever jobs they want.
Developers from abroad, especially India and the Balkan region, are well informed when it comes to new technologies and trends. They also usually have experience of working with clients from the US and understand their needs completely. There is also the benefit of these developers charging less than what you'd expect from developers based in the US. Thanks to this, you're more likely to get a bigger bang for your buck.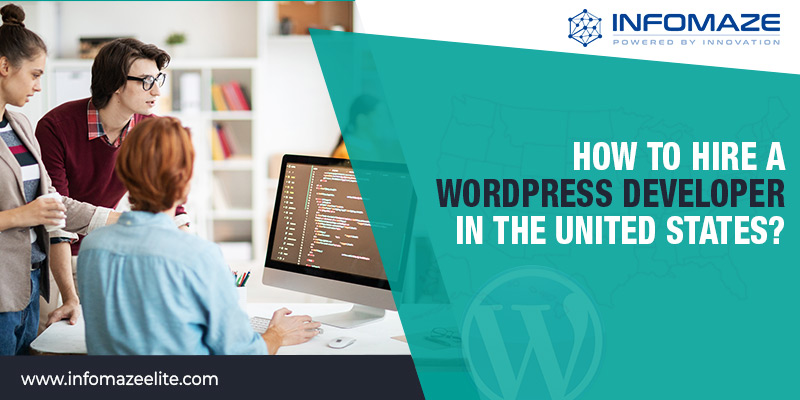 So, if you want to hire a WordPress developer from India, this is what you should do:-
Make a list of all your requirements, so you know exactly what you're looking for.
Fix your budget and try to put aside a realistic sum of money.
Decide the area of expertise you want your developer to have.
Start looking for candidates based on your profile.
This is usually the hardest part, because there are thousands of candidates to go through, and it's almost impossible to verify if they are authentic or not.
And that is why Infomaze is an incredible solution that makes your search for an expert wordpress developer so much easier. Through Infomaze, you can hire proficient developers to build your website the exact way you want it, without worrying about exceeding your budget.
From website development to third-party API integration, these experts are highly efficient and provide cost-effective solutions that are sure to improve your ROI.
The best part about Infomaze is that you can hire the developers in a variety of modules based on your needs, ranging from part-time to full-time. We also have experience in providing solutions for a plethora of businesses, from e-commerce to media and entertainment.
---