Tips for Hiring PHP Development Service Provider
Every business strives to have an online presence by creating an attractive and functional website and applications to promote its service and products, significantly increasing brand identity and ROI. The preference for technology is also a hard decision that needs to be taken by the owners of the business.
One of the highly affordable and popular web programming technology includes PHP, which allows for building dynamic and scalable web pages and applications. But many businesses deal with the real problem of building an in-house website or recruiting an offshore PHP development service provider.
Professional PHP development have been with us for many years because of uses and ease of learning compared to other languages. Regardless of the industry sector, businesses choose PHP due to its user-friendly, cross platform, and customizable features.
The ultimate success of a business lies in choosing the right PHP development company and hiring PHP developers who are entitled to bring optimum ability by creating more stable web apps, eliminating the need for repetitive coding, and promoting rapid growth in web application development.
However, choosing the best offshore PHP development services is quite daunting, so it's better to understand and consider the benefits of PHP development for business and know how to choose the appropriate PHP development company.
Benefits of PHP Development for Organizations
PHP operates across all platforms, including macOS, Linux, and Windows, and is compatible with servers such as Apache, iPlanet, Netscape, and Microsoft IIS. It is also compatible with various languages, including XML, WML, JavaScript, and HTML, making it the most versatile and adaptable to building hybrid web applications in PHP.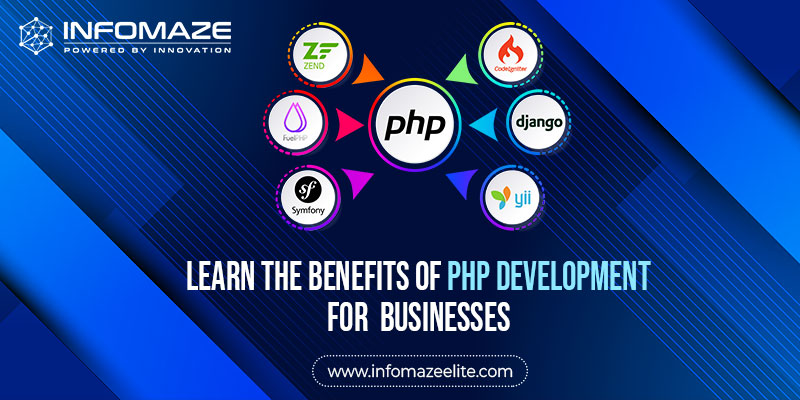 PHP supports iterative development, where the code is well documented and well written, allowing for effortless iterative development with few errors, eventually helping maximize the ROI. So businesses use PHP to create dynamic IT software solutions and make changes with each schedule update.
The fast loading speed of a website is critical for capturing audience interest and retaining them for a long time. With PHP services, you get benefits like easy database interaction, customization, and data processing. Hire offshore PHP development services to build a unique website that loads faster.
Using PHP development services for website creation helps you save time due to the object-oriented design, which enables code reuse. PHP has powerful frameworks such as CodeIgniter, Laravel, and CakePHP, which have unique capabilities to create online web applications rapidly.
PHP is extensively used in web development and is the most compelling argument for software development companies to select PHP development services due to its cost-effectiveness, open source, free to download, and doesn't require a license. PHP has extensive community assistance for resolving queries.
How to Choose the Most Suitable Professional PHP Development Services Provider
Visit their company website and check if they have an attractive website with many modern and trendy features. A PHP development services provider will consist of user-friendly aspects, general appearance, content, graphics, animations, functions, and features.
Suppose you are an entrepreneur or an established organization. In that case, you must check that a professional PHP development service provider works with the latest PHP frameworks, such as Laravel, CodeIgniter, and CakePHP. PHP has prevailed in the IT industry for a long time due to its dynamic and powerful frameworks offering better features.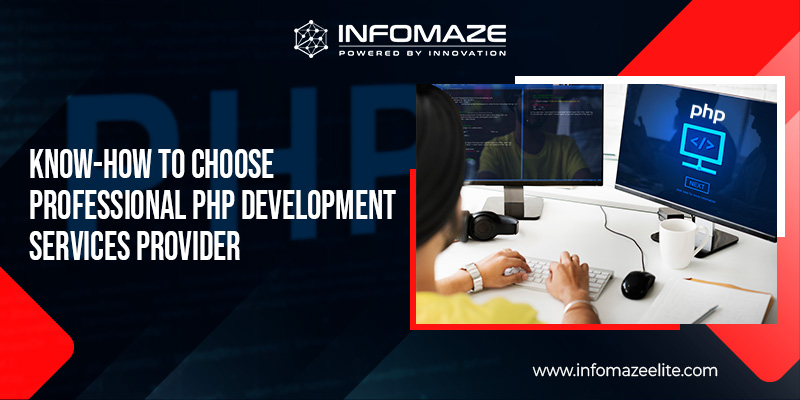 When you select a professional PHP development service provider for your project, consult them regarding their development process and working methodologies, when the PHP service provider operations are compatible with your unique project, request client milestones and workflows.
Before hiring an offshore PHP development service provider, ensure you have a project survey to guarantee that you and your potential prospects agree on the same terms and conditions. A reliable PHP development company will always provide you with project questionnaires to ease your concerns about the project.
When you choose offshore PHP development services, it's vital to review their customer evaluations which give you an insight into their work quality and previous projects. So review their client testimonials, and if you have time, feel free to contact them and verify their genuineness.
Once you select a PHP development service provider, ensure you get project estimation and determine if they use a dedicated PHP development strategy or fixed-cost module. Remember to ask about the hiring modules (hourly or project basis) and the various mode of payment they accept for the PHP development project.
Startups and businesses worldwide utilize PHP programming to build scalable, dynamic, and feature-rich websites. Consider partnering with Infomaze if you are searching for reputable professional PHP development services.
We provide top-notch offshore PHP development services in India, providing first-in-class website development services to all our clients. Hire PHP developers with abundant experience in developing feature-rich websites according to your needs.
---