Social Learning Management System Development – A Case Study
Summary:
The client was in search of Learning Management System Development services and wanted to get a customised LMS built to digitalise and modernise the e-learning system. To utilise the learning technology to its maximum reach, the client wanted to introduce social learning. With our in-house LMS developers' experience and expertise, we created a social learning management system that increased their engagement through a collaborative learning journey.
The Client: On the lookout for SaaS-based Learning Management System Services
The client wanted to create an online learning experience that helped eliminate the learning gap in e-learning and make it insightful and highly focused. And they sought us to build a vendor-hosted cloud system for the social LMS they had in mind.
The Challenge: Getting hold of an Efficient LMS Service Provider
A great idea needs an excellent execution. Not many LMS Software development companies work on the development and customisation of LMS at a reasonable rate and top-notch quality for the e-learning industry.
While most Learning Management System Development is adopted in the corporate world, the client wanted to centralise digital learning and ease into the education system with their social learning management system.
The client was looking for a team with high expertise, experience, friendly and effective communication, and proactive project management.
The client had many ideas for their LMS development and wanted a company that would creatively add to their ideas and improve them before initiating the project. While making sure the Learning Management System stayed robust, user-friendly and engaging after adding the long list of features the client had in mind.
After a long search, the client reached out to us and, with our client-first approach, expertise, and friendly interactiveness decided to continue their Learning Management System development journey with us.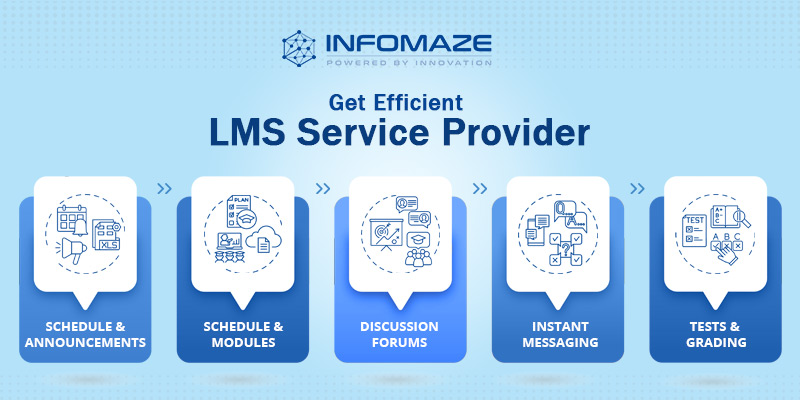 The Requirements:
The client did not just want to provide an online learning program to their customers but wanted a social learning management system that would encourage more social learning communities to participate actively, be it from educational institutes or coaching classes.
One vendor-hosted, cloud-based SaaS LMS solution that multiple users can use in a hassle-free manner
The client requested the following features:
An online, cross-platform mobile app and web app for the LMS
Instant messaging and discussion forums.
A live newsfeed channel where users can update their profile details and personal achievements.
Customisable calendars to maintain and share events, online class schedules and other data with reminder alerts.
Easy conference calling options
An effectual test engine to create and conduct tests with automated evaluation.
Student monitoring with SCORM compliance.
A secure way for the administrators (Educational institutes or coaching classes) to send notification announcements.
With the requirements from the client, our team worked on the Learning Management System Development in a strategic and agile manner.
The Technology Used:
Connecting the React Native components with Redux, a state management tool, we ensured smooth data flow and accessibility from the store while building the mobile applications.
Using the open-source and free MySQL, a managed database service and PHP, the server-side scripting language, we built a cost-effective LMS solution on the web.
SCORM package, Exam Engine, and Big Blue Button for student monitoring, evaluating and conferencing, respectively.
Utilising the expertise and the experience we have gained from building numerous web applications, we ensured the client got a cloud-based learning package as requested.
The Solution: A Feature-rich Learning Management System Solution
Leveraging the technological skills that our LMS developers possess, we developed a highly functioning, collaborative and user-friendly social learning management system app for mobile and the web.
As per the client's requirements, the features were introduced in the Learning Management System successfully, including the interactive social media experience in the learning journey, learning analytics to track the students progress, monitoring student behaviour, and automated test evaluation.
With the SCORM package, we introduced organised content packaging as per the AICC standards and student monitoring; Exam Engine for test creation using the question editor, and grading.
We also provided an administrative feature to send out announcements regarding classroom timings, assignments, projects, and deadlines; notification alerts for class schedules, personalised student reminders and more with an in-built calendar.
While using the Big Blue Button, an open-source software, we brought a seamless conferencing feature into the LMS for group discussions and management.
Along with a hassle-free online learning environment through online classes, to ease the storage of all data and student behaviour, both online and offline across platforms, in one place, we used the SCORM compliant xAPI.
To make the learning process more enjoyable with a free exchange of thoughts and not conform the students to a classroom environment:
We created a social media experience where the students can create profiles
Share educative and intuitive thoughts through the newsfeed, and
Communicate via messaging and discussion forums.
We created an easy option for students and admins irrespectively to import and export data on the learning management system.
The Result: How the Client Benefitted?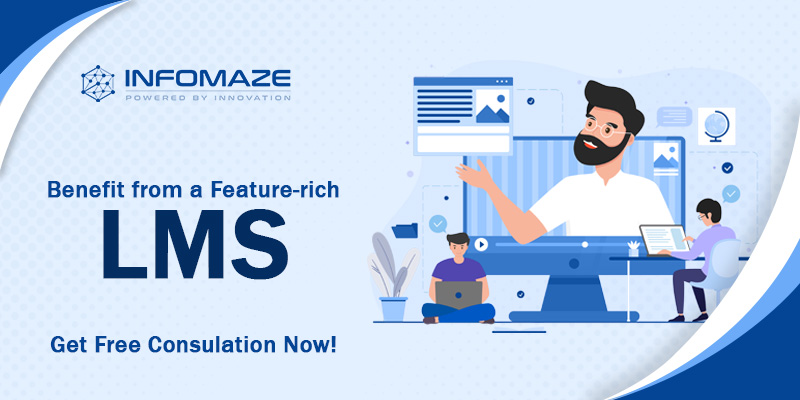 With the help of the clarity in thoughts of the client's vision, we overcame the client's challenges by developing an Learning Management System that increased engagement and collaboration and is centrally adaptable by the education system. We helped the client in the right direction in their journey to eliminating the digital barrier through e-learning technology.
With an efficient LMS with a user-friendly interface that we developed that requires no prior knowledge or training to use it effectively, the client worked best as a vendor for their customers (educational institutes and coaching centres) and has seen a steady increase in their client count.
With the cost-effective LMS solution that we provided through our Learning Management System services and the LMS's increased adaptability among colleges, schools and post-graduate institutes, the client saw an overall improvement in their ROI and profit margin.
Our client has 100% customer satisfaction and plans to include more features in their LMS by rendering our Learning Management System services.
Why choose Infomaze for LMS Services?
As a software development company that has been in its A-game for more than two decades and going on:
We understand your requirements with crystal clarity,
Provide rich and friendly communication
Build mere ideas into an executable plan,
Build working strategies and develop solutions with top-notch technology
Competitive turnaround time at an affordable price.
High-performing customised LMS delivered with our expertise in e-learning technology.
Highly motivated in-house employees with a problem-solving attitude and real-life experience in developing innovative solutions.
---