Pipedrive CRM Integrations with third-party ERP Solutions
Enterprise Resource Planning (ERP) solutions play a central role in making logical business decisions as it allows real-time tracking, communication, and, information-sharing between different modules involved in a sales pipeline management system including financial budgeting, billing, payroll, and other banking operations, human resources, production, distribution, orders, and inventory
A Customer Relationship Management (CRM)-ERP module, in particular, is useful in managing a business's customer profile, leads and other sales processes as it provides fields service management and integrated RMA management, to name a few.
Apart from providing Pipedrive integrations, we also provide hassle-free data migration for successful ERP solutions implementation. As a cloud CRM service provider, we partner with many CRM service platforms. Here in this post, we detail what the Pipedrive CRM platform brings to you, whether yours is SME or a large enterprise, and how we can help you benefit from our SaaS-based cloud-CRM services.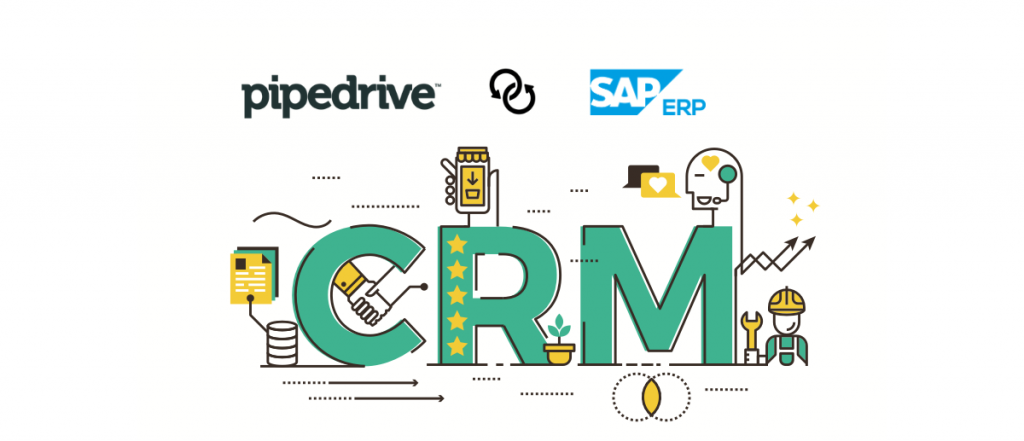 Why Infomaze Partners with Pipedrive: The benefits
Partnering with Pipedrive, our skilled developers at Infomaze provide you with a seamless third-party ERP integration process. Here are a few mentions about the feature-rich Pipedrive CRM platform that we feel are worth listing.
The Pipedrive cloud-CRM platform guarantees an altogether best user experience (UX) and offers customizable sales pipeline categories according to your sales needs. Simplifying your sales pipeline to suit your specific requirements is crucial to maintain an efficient working ERP solutions system. Contrastingly, inaccuracies in your sales pipeline render the whole process obsolete as it leads to the consumption of more time and other resources.
Never miss another hot lead. The custom chatbot and web forms from Pipedrive provide round the clock updates about leads directly into your sales pipeline. This automation provided to recognize and catalog leads, helps you manage your leads better and efficiently turn them into prospects.
Our developers choose Pipedrive for its sales CRM as it is meant for salespeople, enabled with AI to assist you in workflow automation, including, sales assistance with smart contact data, which makes sure you never lose any of your previous customer's data. Also, it allows streamlining, tracking of calls and emails so that you can stay ahead and on schedule, always, be it with your clients or prospects.
The Pipedrive cloud-CRM system provides analysis and relevant visualizable reports that reflect which stage of your sales pipeline needs attention, accelerating the process of reaching actionable results and preventing any loss that you might have incurred.
At Infomaze, when it comes to our services, we want the best for you when security and privacy are concerned. And, that is why we always choose a cloud-CRM platform that can provide transparency, 24/7 secure data storage, selective user access, meaning which one requires permission for accessing the CRM system, and more of such options to its end-users. As the Pipedrive cloud-CRM platform provides all of the above, we feel its a win-win situation for all of us.
Our system integrators believe in providing you with a CRM system that has a flexible user-interface (UI) and is compatible with many operating systems including android and ios. Also, the freedom to integrate multiple apps. Pipedrive cloud-CRM provides a flexible UI and the Pipedrive integrations with its intuitive OAS 3.0 Rest API, allows integrations with multiple apps.
The Oauth 2.0 authentication framework that Pipedrive follows, implements the TLS protection protocol and provides a delegated authorization with SSO access.
Talk to our expert consultants if you need help with the Pipedrive integration.
Why choose Infomaze?
As cloud CRM Pipedrive integrations with ERP solutions provide a 360-degree view of your business, our Pipedrive integration developers at Infomaze believe in providing you with a service that confers 100% user satisfaction and uses all of the Pipedrive cloud CRM features to its full extent to guarantee to equip you with the best customized, third-party ERP integrations that align with your business requirements.
Our team provides not just ERP solutions integrations, but, also a planned, scheduled, and, secure data migration along with ERP integration for a productive ERP solutions implementation. Once after ERP implementation is complete, we also provide end-user training and Gap analysis to assess the performance of your ERP solutions.
As a cloud-CRM service provider, we offer consultation regarding any queries that you may have, from the right CRM platform to choose to which ERP solution is meant for you, we provide answers to all your doubts. Also, our ERP solution system integrators are available to provide you with any aftersales support and maintenance.
Contact our expert Pipedrive cloud-CRM developers and Pipedrive integration providers at Infomaze, if you aren't familiar with the whole process and require our help to decide what customizations to opt while integrating your Pipedrive CRM with third-party ERP solution systems.
---