NAB Transact Payment Gateway Integration – A Case Study
Introduction
Infomaze helped a leading Australian printing company integrate their SaaS-based Print MIS software with NAB Transact for seamless and efficient transactions. The payment gateway integration made it easy for the printing company to collect payments from their B2B and B2C storefronts securely and efficiently.
The Challenge
Despite their longstanding success, the printing company lacked some competencies to sustain in today's market. They were looking for a payment gateway integration to collect payments online from their B2B and B2C storefronts. Because Infomaze already has a Print MIS subsidiary, the client decided it was best to contact us, given our expertise and knowledge in the printing industry.
As the client's business expanded, they needed a payment gateway integration that could simplify their complexities of payment processes in foreign currencies. Before contacting Infomaze with their requirement, their online storefront was displaying Australian Dollars to U.S customers, and this inconsistency caused confusion and customer complaints.
They were looking for an efficient payment gateway that won't hinder their payment processes and make it super convenient to carry out transactions. It was also important that the payment gateway provider offered 100% data portability if they ever decided to switch vendors and be able to retrieve their user's stored data.
They wanted to accelerate their digital transformation by meeting their customers' needs with fast and secure payment processes. Integrating a payment gateway is challenging because of the stringent laws surrounding its implementation and security. Therefore, our client asked for our expert help to integrate NAB Transact into their Print MIS software.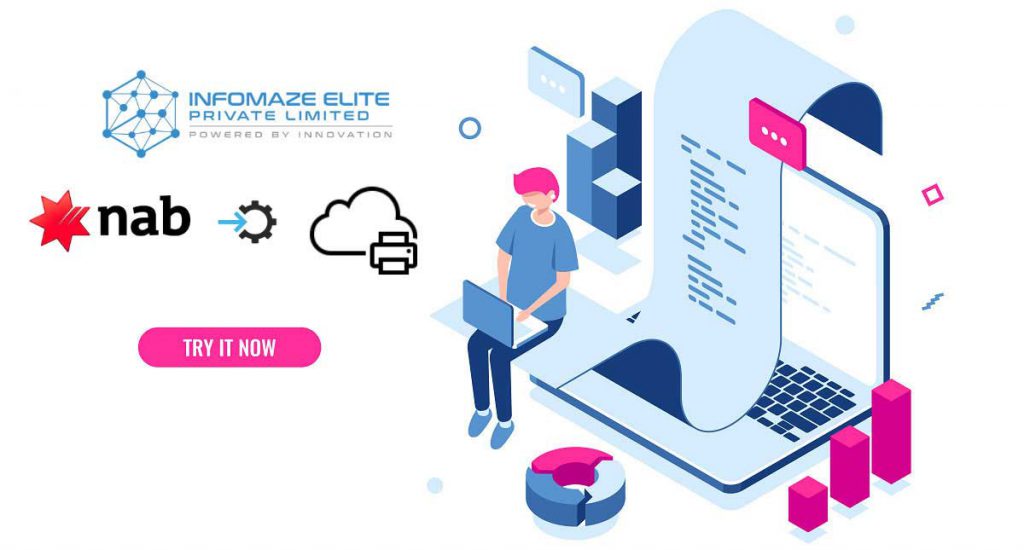 The Solution
Our expert developers thoroughly researched the market and evaluated all the payment gateway providers before choosing the NAB Transact payment gateway. After carefully analyzing their requirements, we integrated NAB Transact into their online storefront. The integration simplified their entire process of receiving payments through a variety of payment methods. With years of experience in payment gateway integration services, we securely integrated NAB Transact's API into their printing solution.
It allowed their end-users to carry out financial transactions from the comfort of their home using a laptop, smartphones, tablets, or any other compatible device. They can now electronically accept payments directly from their website through debit cards, credit cards, and electronic checks.
Here's how the payment gateway integration helped the client:
Security – All transactions are authorized in real-time with advanced connectivity options for faster processing with Secure File Transfer Protocol (SFTP) and 128-bit SSL encryption.
Tokenisation feature – The client can securely submit their customer's card details to retrieve tokens that are safe for their system to store.
PCI DSS compliant – The cardholder's data is stored in a secure environment with the transactions being authorized in real-time.
Faster processing – Large volumes of transactions can be processed and authorized in real-time.
Extended processing hours – NAB Transact payment gateway extends the processing hours by depositing settlement funds overnight.
Multiple currencies – The integration offers pricing clarity for international transactions and allows payments in 100+ currencies.
Track history – The company can effortlessly track the transaction history of up to 13 months all at once or daily.
User access control – The client can set access rights to multiple users depending on their role and specifications.
Other features – Online customer authentication, real-time reporting, advanced fraud management, alternative payment options, automatic recurring billing options, and more.
Results
The integration went as smoothly as the client had hoped. They saw an immediate bump in their online sales, and their customers were equally pleased using their online storefront. Our payment gateway integration helped them make real-time financial transactions in a scalable, flexible, safe, and secure environment. The integration helped them gain a competitive edge in the marketplace due to the worldwide transaction support with an added layer of security.
We helped their business to continue growing and enhanced their customer experience. Ever since the integration, they have grown at a consistent rate of 10% month over month, meaning the integration has allowed them to scale their payments seamlessly. The discontinued orders dramatically reduced and greatly contributed to their success.
---