Migrate QuickBooks to Zoho Books in India
If you are a business owner in India using QuickBooks Online for financial management, it is important to be aware that Intuit, the company behind QuickBooks, has decided to discontinue the service in India from April 30, 2023.
Before QuickBooks is discontinued, it is necessary to switch to a different accounting solution to continue using a financial management tool.
What are the other Accounting Software Options Available in India?
There are several QuickBooks alternatives available in India for financial management, such as Zoho Books, Tally, FreshBooks, Xero, Sage and many more.
These alternatives offer similar features and functionalities as QuickBooks, and may be suitable for businesses looking for a replacement. But Zoho Books emerges as the top choice for Its advanced features and reliability.
Zoho Books is a great option for businesses looking to make the switch from QuickBooks Online. It is a cloud-based accounting software designed specifically for small and medium-size businesses, and offers a range of features and benefits that make it an ideal alternative.
Reasons to Migrate from QuickBooks Online to Zoho Books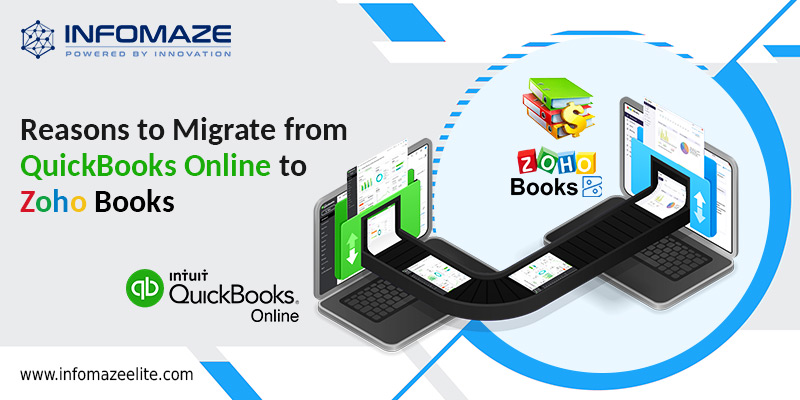 The primary reason for migration is the discontinuation of QuickBooks Online in India. Therefore, to continue using a financial management tool, you must migrate to another accounting solution before April 30, 2023.
One of the biggest reasons businesses switch to Zoho Books is its affordability. Zoho Books offers a range of pricing options to fit the needs of any small business, including a free plan for businesses with fewer than 50 customers.
Zoho Books is known for its intuitive and user-friendly interface, making it easier for small business owners to manage their finances without having to rely on an accountant. This can save small businesses a significant amount of rely on an accountant, as they won't have to pay for professional services to manage their finances.
Zoho Books offers a comprehensive range of features, including invoicing, expense tracking, bank reconciliation, and financial reporting. This makes it a complete financial management solution for small businesses, without the need for additional third-party tools.
Zoho Books integrates seamlessly with other Zoho apps, as well as with third-party apps like PayPal and Stripe. This allows small businesses to streamline their workflow and save time by automating repetitive tasks.
Zoho Books can be accessed from anywhere, on any device, including smartphones and tablets, giving small business owners the flexibility to manage their finances on the go.
Zoho Books offers excellent customer support, including email, phone, and live chat, providing small businesses with the support they need to successfully manage their finances.
Let us help you with your QuickBooks to Zoho books migration. As a Zoho Authorized Partner, we have an experienced and skilled Zoho Development team capable of handling implementation, development, and integration projects for a variety of industries with varying levels of complexity.
The Impact of QuickBooks Discontinuation on Indian Users
As of May 31, 2023, Intuit will no longer provide services for both Mac and PC versions of QuickBooks, including Enterprise Solutions v20, Premier, and Desktop Pro.
This means that Indian users will not be able to use the software or access their financial data and features. If you are not using additional services within QuickBooks Desktop 2020, your software will still work.
However, Indian users will no longer be able to subscribe to live technical support or other Intuit services that are integrated with QuickBooks Desktop.
On the bright side, they will still have access to services such as QuickBooks Desktop Payroll, Online Banking, Online Backup, Live Support, and others through QuickBooks Desktop 2020. Please note that these services will also be discontinued after May 31, 2023."
Explore our Case Study on


QuickBooks to Zoho Books Migration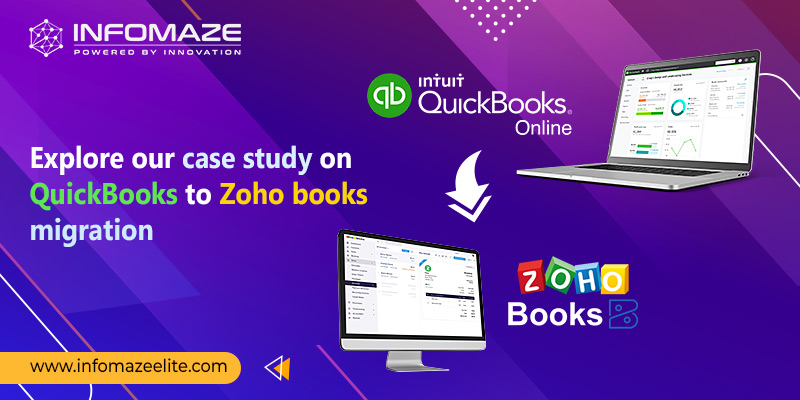 A glass company approached Infomaze with a problem of time lag and the requirement of extra manpower hours in their business operations. The company was using two different software for CRM and finances, leading to a time-consuming process.
Infomaze helped the company migrate from QuickBooks to Zoho Books, which was their preferred choice since they were already using Zoho apps for other purposes. Our experts used ETL technology and Zoho APIs for a seamless migration, ensuring a secure transfer of data with no loss.
The company benefited from automation and easy access to their finances, leading to increased ROI from the affordable Zoho Books features and Infomaze's efficient team.
Why Choose Infomaze for Quickbooks to Zoho Books Migration
To simplify the switch from one accounting system to another, we are here to offer our support. With the discontinuation of QuickBooks in India on April 30, 2023, it is important to find an alternative solution for your accounting needs.
The Zoho software and its services offer a comprehensive solution that can benefit your business. Our team, as a Zoho Authorized Partner, has extensive experience in implementing, developing, and integrating Zoho solutions for various industries. Allow us to help you migrate your QuickBooks data to Zoho books, streamline your accounting and payroll processes, and reduce the costs and efforts required for compliance.
---