Lob and Zoho CRM Integration for email automation – A case study
Customizing emails to increase error-free productivity and increase the ROI on offline communication
The Client: A mortgage company in Texas providing competitive home finance solutions.
The client is a mortgage company in Texas that helps customers find potential homes and offer a wide range of loan solutions. Sending an enormous number of online and offline communication to customers on services and payment reminders was a counted task. The client asked us to provide a solution to structure the mails management system efficiently.
Infomaze stepped in with its customized approach in integrating with the Lob and Zoho campaign to automate and ease the process of sending the mails.
The Challenge: Customizing the mail for different leads
The client had a basic approach in sending mail to its customers. The client had to personalize content for the emails and letters before sending them to leads and customers. With massive service notes and bills to be sent each day, the job got more tedious and lagged on accuracy.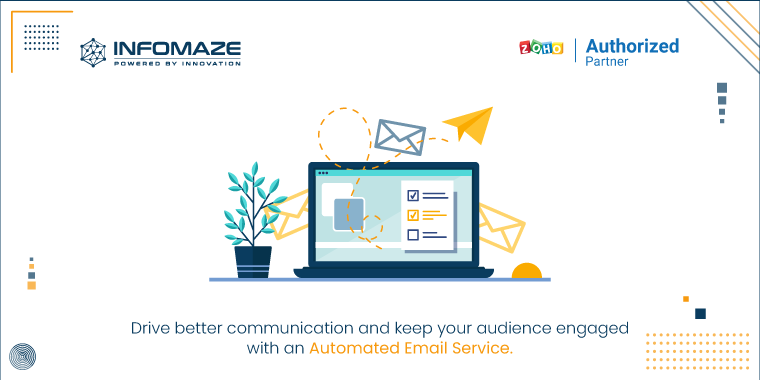 The requirement: To achieve a more structured way of managing and sending a communication to its customer
The company sends emails, letters, and bills to its customers on a day-to-day basis. This job requires a birds-eye accuracy in managing the generated data. The client wanted an online web application that would help the client organize data in a more structured and easy to access manner.
The next task was to automate the mailing process. To customize and personalize data for different leads it is being sent. The client wanted to verify the address and content of all the communication that goes out.
The Solution: Zoho Campaigns to create and send emails and Lob to verify and automate the offline and online communication
Infomaze set foot with its customized solutions for all of the issues customer is facing. Our Zoho developers could quickly drill down the customer's query and start customizing the Zoho applications.
Infomaze linked the client's Zoho campaign application with Lob for an automated mailing process and provided a more efficient direct mailing service.
Email automation provides a more secure way of marketing the company's services. They also offer an efficient and scalable method of sending user-specific responsive messages.
Here is our take on approaching the client's issue with our expertise:
Zoho CRM: Thinking about organizing the massive data that a small team can handle brought us to the Zoho CRM email campaign application. Being an authorized Zoho partner, our developers customized the application to meet the client's business requirement. The user-friendly and straightforward UI helped the client streamline their composite data and view all the essential data in a single-page dashboard.

Another set feature of the Zoho CRM helped the client track bills and pay dues which got the client's business to reduce the errors and handle data with more accuracy. Our customization on the Zoho CRM email campaign app proved to be more reliable, intuitive, and secure. It was also a complete packed CRM application that our client could entirely rely on for all their business transactions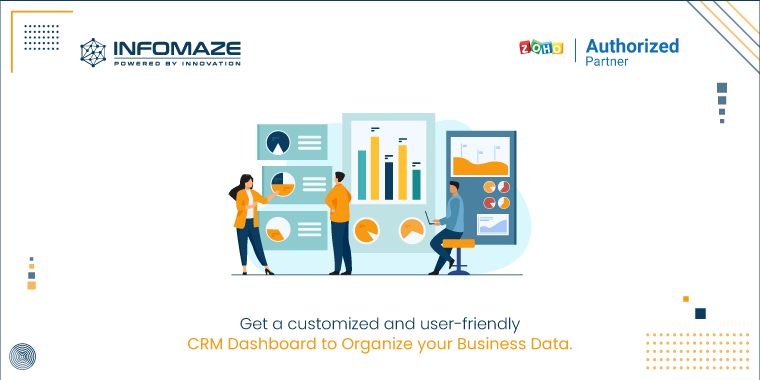 Zoho Campaigns: The client was a mortgage service provider who wanted to advertise their services and reach their clients with email communication. With the offering's competitive loans and financial services, they wanted a more professional approach to reach their potential customers.

The client had to send many online and offline letters and bills to their customer regularly and, it was a risky task for the small team to handle. Zoho campaigns integration with Zoho CRM was our choice in getting this task simplified.

As a go-to marketing tool, we were able to integrate the Zoho campaign with Zoho CRM. This integration lets the client's business perform to its fullest capabilities. Zoho campaigns CRM integration has got the client get more insights on which messaging templates resonate with their different leads. This way, the client can refine their messaging mode that targets leads and decision-makers.

Lob API mailing services: Infomaze linked the Zoho campaigns API with Lob's API mailing service to automate the direct mailing process, which in turn helped the client to organize and send personalized data, payment reminders, and service offerings to their customers.

Infomaze's customized API integration take on the client's issues got them to streamline its business, approach its customers based on their preference, and offer tailored solutions. With Lob's implementation, the client could reach the new business line by reducing the manhandling errors and increasing the delivery addresses' verification.
Organized data Structure
Accurate delivery of the mails
Automated email marketing
Timely delivery of bills and invoices
Reduced manual checking
Cost-effective work-flow
Seamless data analysis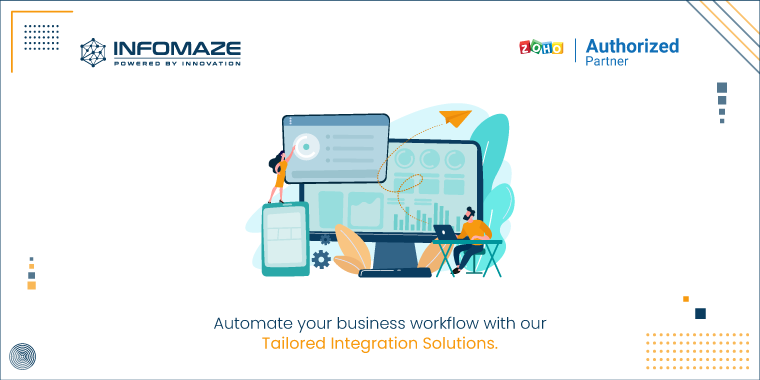 Infomaze offers a wide range of business solutions to its global clients. Our developers prove expert knowledge in analyzing the client's requirements and provide a tailored solution. Being an authorized Zoho service provider, we have set our mark in creating a very reasonable and affordable solution to each of our client's issues. We are proud of our reliable, economical, and innovative solutions. Our customers have chosen us as their trusted business solution provider.
Serving a wide range of global clients, we have helped them step up their business game with a more competitive and automated approach in their field of business. Whether developing a web application, integrating third-party services, or migrating your business data, count on us for all your digital requirements.
Having similar automation planning?
Contact us to know more about our customized API integration services to automate your business processes.
---