Is your Legacy Software System Preventing Growth in Your Business?
With an Amazing pace of business where technology has become a ring leader in its evolution, it is not rocket science to realize that business must keep up with evolution. With each dawn, there are new opportunities, upgrading technologies, and new skylines to explore.
Thanks to the pandemic outbreak- it has proved that adoption is never a requirement but a necessary factor in this business world of rapid digital technologies. A business needs to build new strategies and get exposure to new technologies.
Are you looking to modernize your Legacy System? You're at the right Place. In this blog, we dive deep into the captivating information of the Legacy software that can stop you from soaring to new heights.
Legacy Software system indeed is a backbone of organizations that have been around because of their stability and dependability in conducting business operations but, they are incompatible with modern strategies and limits the growth and ability to adapt. It is an obsolete technology, difficult to maintain and update easily matching the current trends and needs.
Inheriting a Legacy is one good thing, but not in IT Industry. To implement the latest technology trends in your business- it is a wise step to opt for time-saving and cost-effective methods that upgrade your legacy and can automate the manual process that's still following in your business.
How Legacy Software System Can Harm Your Business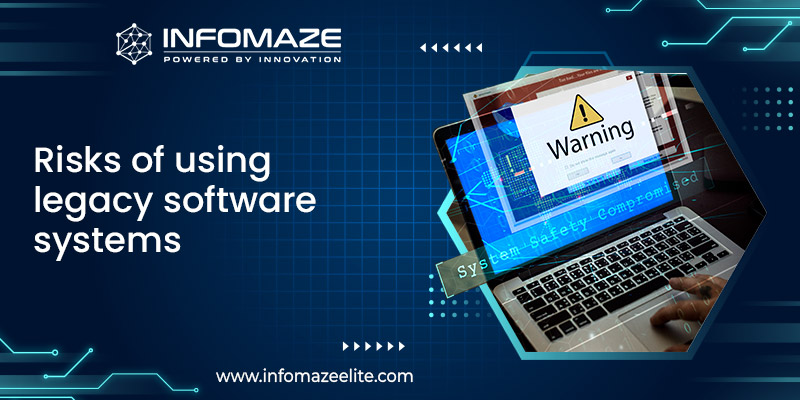 Using an outdated information system with a technology that can neither supported nor updated by the developer, is like riding a bullock cart between the racing cars.
Though there are possibilities to continue using the legacy support system, down the lane, these can have a huge drop fall on your business growth. It slows down future business growth even for any change or replacement and eventually.
Here are some of the Risks of using legacy software systems in this world of emerging technologies,
Imagine having a business process that was built around a constrained technology. Instead of doing what's best for the business, old technologies force you to work within its restrictions rather than what the business must accomplish.
Working within the constraints, irrespective of the technology updates leads to decayed workflow and lacks the features to streamline business processes.
In this data-driven world, businesses depend on strategic decision-making. Data is the key to such strategic decision-making. But, Legacy Software system data comes with its own quality, architecture, and database design challenges leading to instability and redundancies of the data.
Legacy system support poses a grave security risk. Yes, you read it right! What seemed secure in the past years is no longer authentic. Advanced technologies come with advanced security breaches.
Legacy software is often prone to malware attacks, as they are not designed to handle modern security threats. They are vulnerable to security loopholes as nobody is actively working on them to fix the bugs. They are deficient in the necessary security features and updates resistant to cyber-attacks.
Legacy systems may not be compatible with the newer technologies. No matter how old the software is, it needs to be integrated with the latest applications to run a business. Else, it can hinder business and limit innovation.
The major drawback of Legacy software systems is the poor performance. You can not lose your business performance with your employees to a report that takes forever to load.
Challenges Faced in Legacy Application Transformation
Yes, Changing the Legacy System software, which took years and hard work to build, is indeed a challenging task. But when it comes to steering the emerging innovations and making the most of them, legacy system modernization Is an integral part of it.
However, upgrading the legacy software system or replacing it with a new one requires a skilled and trusted specialist who can overcome the following challenges,
Modernization of your Legacy System requires a special In house IT team from the company, with developers to create the latest version and testers to test both older and newer versions simultaneously to check for similar functioning and advanced features.
Require more time and cost to create a replacement or new version to match the current technology trends.
Many software applications have come into the limelight over the years. Many open-source, SaaS subscription-based software applications also offer open customization. Developer-based customization that exactly fits the business is quite a challenging task.
Compelling Benefits of Legacy System Modernization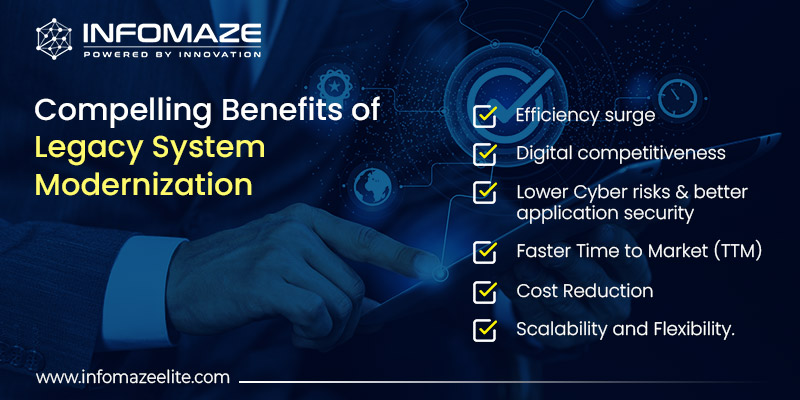 It is natural for any company to hesitate to replace or upgrade its Legacy Software system. But there are several unavoidable reasons to opt for legacy application modernization services and add innovation to your Budget.
Some of the benefits include,
Efficiency surge
Digital competitiveness
Lower Cyber risks and better application security
Faster Time to Market (TTM)
Cost Reduction
Scalability and Flexibility.
Infomaze- Through the Journey of your Legacy Application Transformation
Over the past 23 years, we, a Business solution provider, rendered our services with strategic plans. We focus on understanding our client's business problems and the framework before making a plan.
We look for,
What –

does the current software do?

Why –

is the client looking for a legacy change?

Which –

all software customization is required?
The step-by-step journey alongside Infomaze includes,
Strategic Analysis:

Roots into your legacy system to plot vulnerabilities and strengths.

Customized Patterns :

We craft a personalized plan adapting new software components with a modern touch to shore up your business's requirements.

Ideal Integration:

There's no place for tech incompatibility for us. We weave the new perfectly into the old with no loose ends.

User-Friendly Design:

We focus on taking the user experience to center stage. We plan around your Legacy Software system to ensure not to invest time adopting new software.

Sustainability:

It's not about just today. We bring out the best in you to cope with future business hiccups. Our team also takes care of maintenance, backup, and security with their potential ability.
We have clients across various Industries like Telecom Industry for Supply chain Management systems, Medical Industry, and Print Promotion in Signage Industries. We have worked for several other specifications besides Legacy application modernization.
Talk to us about your Legacy Software System and needs. Let our team dive deep into all the prospects and give you a cost-effective, Secure solution that suits your needs.
---