How Infomaze is Empowering Businesses through Software Outsourcing in India
The incorporation of the latest technology trends, coherent digital experiences, and a great dedication to innovation are in high demand to cope-up with this evolving business world.
Infomaze, a software development company with a record of excellence and innovation, plays a significant role in empowering businesses through its emerging software outsourcing services.
From Business Intelligence to Laravel development we have proven our excellence in delivering powerful business insights for smarter decision-making and breaking barriers to reach new heights. Marching with the vision towards the goal of our clients, we complete the task in no time and expertise that beats the odds.
The journey of Infomaze's innovation
With many software outsourcing providers, Infomaze stands on the radar of innovation. A team of dedicated experts always ship to an innovation journey that brings businesses to the forefront of digital transformation. With software solutions, they serve the needs of each client, fostering continuous improvement and advancement.
Guiding through the Dynamics of Software Outsourcing in India
The idea of outsourcing software development services to India has become interchangeable with a catch of expertise and cost-effectiveness. In this terrain, Infomaze emerges as an acheiver-a software development company in India that sets the bar high. We aren't just an offshore development company but a pathway to unlocking the treasure of innovation, evolution, and coherent digital information.
Driving Innovation and Digital Transition Globally
In the world of digital transformations, it is the ultimate goal for all business sizes to embrace them effortlessly. Infomaze converts this long-term goal into reality. With multiple software outsourcing services that can beat boundaries, we help our partners achieve their digital dreams with our strategic ideas.
From designing customer-driven mobile apps that enrich experiences to computing intricate enterprise solutions, Infomaze's portfolio has become an art of innovation. Our approach doesn't just stick to technology- we go beyond the understanding of a business to come up with multiple solutions that fit seamlessly.
Adopting Cutting-edge Technologies
In the journey toward progress, Infomaze doesn't just follow trends, it creates them. Our arsenal of cutting-edge technologies spans, mobile app development, blockchain, business intelligence, CMS development, machine learning, the IoT, etc., each harnessed with finesse to engineer solutions that revolutionize industries.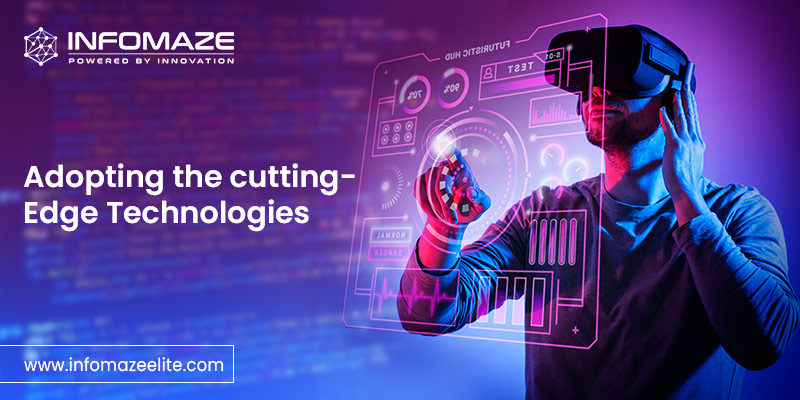 Here are some of the advanced services provided by Infomaze
We have the expertise to deliver exceptional applications that meet our client's needs. Some of them include:
AI-based mobile apps
AR and VR mobile apps
IoT-based mobile apps
Field service management (FSM) app
Financial apps
Travel-based apps, and many more.
We offer affordable business intelligence solutions that employ secure data mining techniques to help organizations make well-informed decisions. Our analytical approaches deliver the right information with consistent integration and real-time data visualization. Some of the tools used are,
Microsoft Power BI
Tableau
Yellowfin
QlikView
Zoho Reports
We offer top-notch web app development services that include easy integration, live data visualization, and assured data mining. Our wide range of application development services includes,
Web portal development
eCommerce development
CMS (content management system) web development
ERP (Enterprise Resource Planning) software development
Human Resource Management software and much more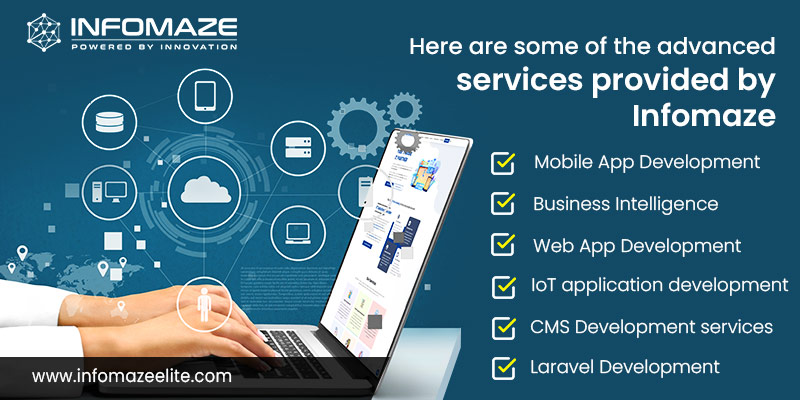 We empower businesses to achieve their full potential by providing expert IoT mobile app development services.
We specialize in CMS customization services for various open source content management systems, helping your website reach its full potential.
We create dynamic websites using a PHP-based MVC framework, specializing in e-commerce, CRM, and ERP systems. Let us help your business thrive online.
Our services include,
Custom Laravel Solutions Development
AI and ML-based Laravel Solutions
Laravel Cloud Integration
Laravel eCommerce and shopping cart development
Laravel Extension Development
Expertise in tools for Laravel development, including PHPStorm, Laravel Entrust, and Laravel DeBugBar, to name a few.
The Future Through Trendsetting Commitment
With a squad engaged in a never-ending loop of learning, adapting, and experimenting with the latest technology trends, we ensure that our clients are provided with multiple solutions to cope with current challenges and upcoming challenges.
With a continued commitment to adopting emerging technologies, and customizing solutions, Infomaze, being a game-changer in outsourcing software development, has been empowering businesses globally.
In a world where technology builds the foundation of success, Infomaze guides you to illuminate the path to growth and adapting to technology trends.
---