Hire Software Developers and programmers from India
The IT industry is skyrocketing day by day, which means there is a demand for a large amount of work for software development companies all around the world. Most frequently, they lack the required resources. This is when remote offshore teams come into play. To increase their entire development skills, most firms hire offshore remote developers.
It's no secret that India is regarded as the global center for highly qualified developers and businesses. And it's for this reason that IT firms are aiming to capitalize on this massive pool of top-tier developers.
However, there are several factors to consider before employing offshore developers from India. We will give you comprehensive advice on top reasons to hire software developers from India in this blog.
Why should you hire remote developers from India?
Over the recent decade, the popularity of hiring offshore software engineers has reached its peak. Let's look at some of the reasons why firms prefer to hire dedicated developers from India in detail.
The best brains across the world
The main weightage points of employing remote developers are that you get to work with the best among the lot and they are in huge pressing requirement right now.
The key reason behind the growing demand is that India houses a copious amount of skilled, qualified, and talented developers. Every other Indian home has a programmer or a software engineer. Due to the abundance and quality of Indian brains, hiring Indian programmers proves to be extremely beneficial.
Let's take a look at the top five ways how hiring developers from India may help you save money on your project.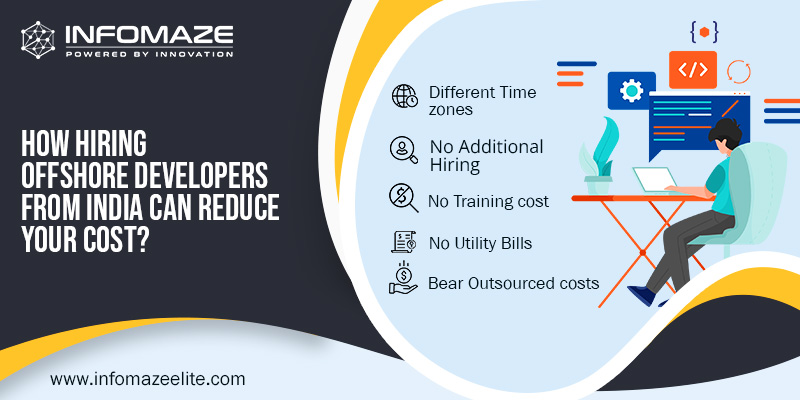 Outsourcing offshore developers in India might save you a significant amount of time and money. This is primarily due to the time zone difference.
Remote developers from India can operate even when you are asleep. This ensures that the development process is never delayed. It also guarantees that time is used efficiently, resulting in cost savings.
Sometimes you might need a particular set of talent to fulfill your project needs. During those times, hiring additional resources might not seem profitable for the company since the requirement would be for that project alone.
In these situations, to cut down on additional hiring costs, it is better to employ offshore developers. They would be working from remote places and as well possess varied skillset.
Offshore development firms worldwide are recognized for providing the most significant and diversified pool of experts for your project.
Software technology is booming day by day and keeping accustomed to the latest software is a must for software developers. Companies regularly have to bear additional expenses on training the employees for new tools and technologies.
By hiring remote developers, enterprises can save remarkable amounts on training and thereby recruit required talent.
When you have an office set up, you must pay for on-the-job amenities like heating, air conditioning, electricity, gas, and so on. These costs may sometimes spiral out of control.
In this case, you may engage offshore engineers and can save a huge amount on your electricity bills.
When you hire an in-house developer, you must invest in every resource that you employ. As in the case of dedicated programmers, you just have to bear the costs you've outsourced.
Customised Technological Proficiency
The technological world is quite dynamic. It's because you're always witnessing quick changes. This is why your developers must be knowledgeable about all of the latest technologies and tools.
However, having such assets at your disposal is not always possible. This is where there is a need for and a demand for hiring dedicated developers from India.
Businesses can compensate for a lack of technological experience by hiring professional developers that are knowledgeable in a variety of technologies.
These specialized developers will use their skills and experience to provide high-quality tailored solutions for your business.
Cost Benefit analysis of Offshore Developers over Inhouse teams
Most Businesses are increasingly choosing to employ professional developers rather than an in-house development team since the former is more cost-effective.
We've created a comparative evaluation chart to help you better understand the cost need dynamics between dedicated and in-house teams.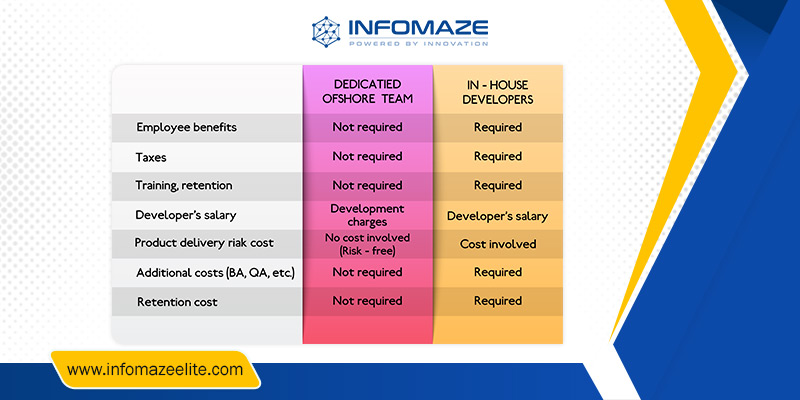 Software needs are rapidly increasing around the globe and there is a dire need for talent in the IT industry. With limited advantages of in-house developer teams as we have seen in the above article, enterprises are looking out for offshore remote developers to meet their software requirements.
Infomaze is well recognized for guiding and assisting various software firms with its highly competent and experienced dedicated engineers and teams. Our specialized developers are adept in the latest tools and technologies and trained for delivering first-class results. We help you by providing the perfect resource from our diversified talent pool of remote software developers.
---