Customized DOMO Dashboard Integrations for a Real Estate Company – A Case Study
The Customer
The client is a real estate enterprise, with a requirement to securely maintain and analyze big data pertaining to its development, sales, marketing, brokerage, and property management.
The Challenge
Our client was using two different data sources, Microsoft Excel spreadsheets and Salesforce to store all of their real estate data related to different areas of the real estate industry. Inefficiently handling, sorting, and analyzing big data results in a delay while making crucial business decisions leading to the incurrence of loss and for the same reason, our client leaning on real estate data sets from two different sources to obtain a single report was not worth their investment in terms of time or any other resources.
Therefore, our client wanted all their data on a single platform with a means that would provide quick aid in visualizing stats reflecting the sales and overall growth of their company. At the same time, the client wanted to share relevant data reports on social media platforms to help them in their strategic marketing.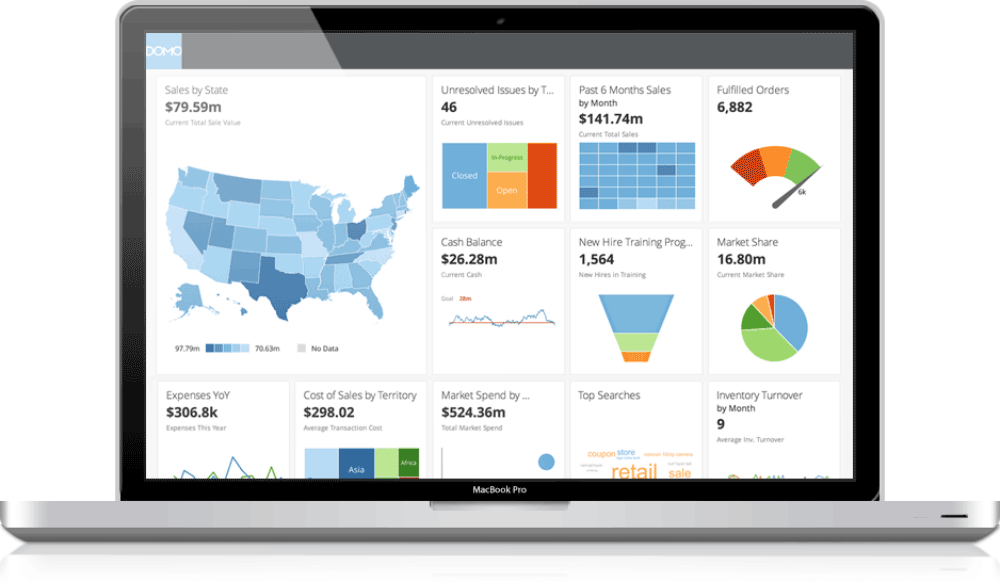 DOMO dashboard development
Cataloging all the commercial properties, lands, and houses for sale.
Maintaining an updated information log of the builders, investors, locality, including the number of gas stations, schools, to specialty grocery stores around the area that would affect while appraising the property price, property tax history, details about the lands, houses including how old the property is and more.
Store a record of current and predicted mortgage rates, factoring in all the appropriate data.
Talk to our expert consultants if you need help with the Domo dashboard integration.
Technologies and tools used
Our solution providers used ETL technology along with the tools available on the DOMO-cloud platform, including DOMO magic ETL, DOMO data integrations and DOMO visualizations, to provide an overview of their business's progress. We chose DOMO as SaaS, as it offered scalable solutions along with ad-hoc reporting features.
Our Solution
The client contacted us with their problem and the results they expected from our solution. Our skilled developers at Infomaze, with the client's needs in mind, came up with a solution that provided them with an all in one solution, integrating the data from the separate data sources that were in use with a Business Intelligence (BI) tool that would provide real-time progress reports and access to social media platforms for sharing pertinent snapshots of the reports.
With our expertise, using the DOMO Integration cloud, we securely integrated the different data sources, Microsoft Excel spreadsheets, and Salesforce that our client had been using to store real estate data so as to acquire data access from a single data source.
Also, we provided customized DOMO data visualization to obtain and govern real estate data analytics reports by providing unique KPIs to the BI reporting tool to monitor the company's progress from an increase in their ROI to managing their workflow efficiently.
To provide data sharing across several platforms for our clients, including reports that would affect their marketing, our experienced developers using the in-built DOMO API connectors, integrated their DOMO operating system to social media platforms.
Using the right machine learning algorithm, our experts in AI technology built a predictive analytics BI reporting tool to govern the current as well as predict the mortgage rates and to provide a forecast of the condition of a building. The predictive analytics tool was designed to factor in Inflation, gross domestic product (GDP), employment rate, Monetary Policy, mortgage-backed securities (MBSs), and age of a building while conducting a predictive analysis.
Results
The seamless data integration carried out by our knowledgeable developers between the two independent data sources, Microsoft Excel spreadsheets, and Salesforce that our client was using, allowed our client to instantly access all the real estate data sets on a single platform and thereby, save time while getting actionable insights.
With our customized DOMO visualization real estate data analytics, a BI reporting tool that Infomaze built, our clients could implement favorable changes in their workflow successfully, and also, increase their ROI as DOMO visualization through DOMO dashboards provided easy reporting snippets in no time.
Also, taking advantage of the DOMO connectors, the in-built DOMO APIs that our proficient DOMO integration providers used to integrate social media platforms with the DOMO dashboards, our clients could easily share data visualization reports across social media, attracting more engaging customers and also positively impacting their sales and marketing.
Using the predictive analytics tool that our adept developers built using AI technology at Infomaze, our client could provide a fair overview of their current and the predicted mortgage rates and the condition of the property proposed considering all applicable parameters so that their customer could make informed investment decisions with reduced financial risks.
---