Business Intelligence for Supply Chain Industries – A Case Study
Infomaze, the leading software solutions company, has recently worked on offering Business Intelligence solutions for an oil and gas company. The company needed better insights from their data, especially to avoid waste or excess, maintain their data, and deliver savings to the company. The results that Infomaze was able to deliver were fascinating.
The BI Guide: Everything You Need To Know!
Business Intelligence (BI) for supply chain industries refers to gathering, processing, and evaluating data involving various elements of supply chain operations. Making educated decisions, streamlining procedures, increasing efficiency, and eventually improving supply chain performance are all possible with the use of this data. BI solutions give business users access to a variety of data types, including semi-structured and unstructured data, such as social media, as well as past and present, internal and external, and third-party and personal information. This software gathers company data and presents it in comprehensible ways, including reports, dashboards, charts, and graphs.
The Client: An Oil and Gas Company
Our customer, a significant industry player in the oil and gas sector, was dealing with issues in supply chain management. They need a solid solution to optimize their supply chain, inventory management, and material management procedures because they have businesses worldwide. The customer saw the need for data-driven insights to improve operational effectiveness and make wise decisions. Hence, they turned to us for the best solution.
The Challenge: Ineffective Supply Chain Management
A leading Oil and Gas company in the United States (US) is characterized by complex supply chain networks with many different suppliers, distributors, and large quantities of inventory. They wanted an effective solution because they could get a better understanding and gain insights from their data, measure the areas that needed extra focus, and optimize the entire process. The customer faced a number of challenges, such as:
Miscalculated Demand:

The company had trouble in predicting demand accurately, they were either overstocking or understocking the goods.

Restricted insight:

They were not able to react to rapid market developments because they lacked real-time data on inventory levels, supplier information, and order tracking statuses.

Non-automated Tasks:

Using manual methods led to blunder mistakes, inaccuracies, oversights, and holdups.
Infomaze took that challenge seriously and started discussing the requirements of the problem with the customer. During this discussion, we analyzed the exact issue of the data being spread across multiple databases, which grants access.
They were only able to create the reports via a request from the IT department to convert a report into an Excel file and send it to the respective stakeholders.
Business Intelligence tools can eliminate up to 50% of forecasting supply chain errors.
The first BI software was found and developed in the 1960s. It was first called the Decision Support System (DSS).
The Solution: BI Approach and Implementation by Infomaze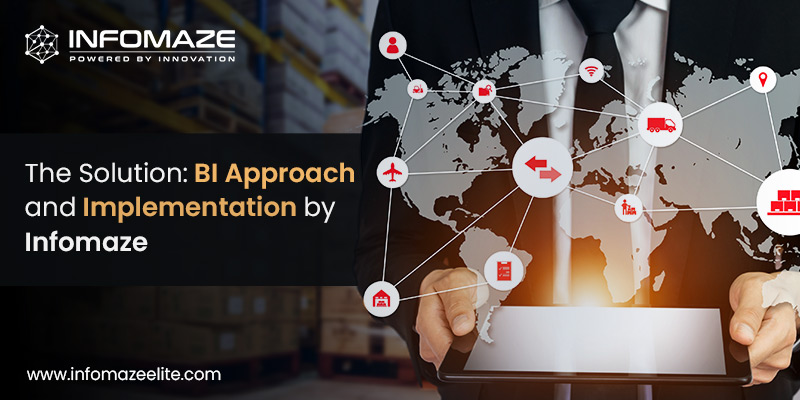 Infomaze spent a reasonable amount of time understanding and analyzing the issue, database, KPI, targets, areas of focus, units of measure, and benchmark of all the requirements. We came up with a mind-blowing plan with Microsoft Powered Bi.
We suggested an in-depth Business Intelligence solution using Power BI, which is adapted to the unique requirements of the Oil and Gas company and designed to deal with their issues. The proposed solution was:
BI Powered interactive dashboard development:

Customized BI-powered dashboards were created and developed in order to view inventory management, supply chain activities, and supplier updates with order statuses. The solutions were shown within the organizations as per their employment level as well as the stakeholders on the same dashboard. These BI-powered dashboards have a user-friendly display design.

Data Unification:

We gathered the data from various sources, such as ERP systems, suppliers, and internal data sources, and combined them into a single warehouse database. Data silos were permanently removed, and centralized data management was brought into action.

Advanced Data Analytics:

The client was able to tackle demand forecasting, inventory optimization, and supplier activity analysis with advanced data analytics. Making wise decisions at the correct time and reducing expenses was the best choice.

Auto-generated reporting:

Infomaze made everything computerized and auto-generated by software to avoid human errors and save time.
The first design was informational and a huge success; it was presented in a pictorial format and gave a quick overview of the solution plan.
The implementation structure constructed by Infomaze:
Evaluation and needs analysis
Customized Design
Data Consolidation
Dashboards Development
Quality Assurance and Testing
Implementation
Training
The data migration and uploading of data from various departments, even before deadlines with reminders, were quick, efficient, and simple.
Business Intelligence (BI) software is no longer a luxury or something complicated. Being able to use the data to optimize it and make strategic solutions will be the only thing that determines the future success of the business. We have not only set up clients for long-term success but also produced outstanding results. By utilizing, the BI dashboards and data analytics, customers have become focused on areas that need maximum attention to resolve the issues. Infomaze is focused on providing you with the best solutions that suit your company. The main goal of our services is to make things simpler and more convenient for you.
Does all this sound familiar to you? We offer the finest solutions at a reasonable cost. Infomaze understands and analyzes your requirements, and we provide customized solutions because we know all businesses are different from each other. Our BI power solution team will be so glad to assist you.
Partner with us today and rebuild your company's future with us!
Advantages of BI Solutions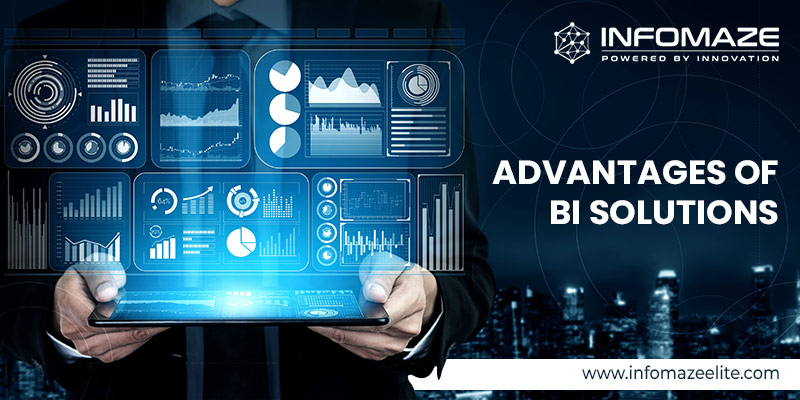 Here are some significant advantages to Business Intelligence Solutions:
Boost Visibility:

The client was able to rapidly make data-driven choices because of user-friendly dashboards and full access to inventory levels, order status, and supplier activities.

Enhanced Forecasting:

Advanced data analytics enabled accurate and precise demand forecasting, reducing overstocking and understocking.

Expense Reduction:

Considerable cost reductions were achieved through increased supplier performance and optimized inventory.

Productivity Improvements:

Auto-generating reports reduces manual work, which results in efficient productivity.
Limitations of BI Solutions
Undoubtedly, just like every other project, Business Intelligence Solutions has its own limitations:
Data Integrity:

The foundation of any BI solution is built on data. The customer's previous data might have shown false or negative insights, reduced efficiency, or had errors or mistakes if it's a low quality BI solution.

Complex Integration:

Combining information from various sources can be very difficult, time consuming and even expensive.

Data confidentiality and Security:

The oil and Gas industries always have sensitive data, which requires strong security measures to ensure privacy. Laws are followed, and precautions are maintained and taken.

Technical Obstacles:

Operations can be interrupted and the effective implementation of BI solutions might be delayed due to technical difficulties, which also include system failures, software errors, or even compatibility issues that are already present in the existing system.
The Business Intelligence software was designed and developed with flexibility and durability as the main considerations at Infomaze. The software is highly adaptable to new data sources, more complex data analytics, and the evolution of reporting requirements and systems. This ensures that the client will maintain the database and software in the long run.
---