Why Dot Net is the Best Framework for Web Development Companies?
Create Robust & Scalable Applications using Dot Net Frameworks at affordable rates
Dot Net framework is an exclusive platform to build a web application, favoured by every application development company for its user-friendly approach & effective integrated options for web development.
Multiple frameworks allow businesses to build scalable & dynamic websites and web applications that can assist in bridging their clients, employees, vendors suppliers in one loop.
.Net core development services assists in building & running software applications for Windows Servers, Windows phone, Windows, Microsoft Azure, and XML web services.
Dot Net framework consists of an extensive class library called Framework Class Library and a CLR (Common Language Runtime) responsible for providing language interoperability across multiple programming languages.
Net core development services is a diverse medium that supports a wide range of technologies, over 30 programming languages & development styles to create innovative and consumer-centric web applications.
Hire ASP.NET developers to conquer multiple benefits for your business, such as code reusability, reliability, interoperability, and other benefits at affordable costs.
6 reasons to choose Microsoft .NET frameworks for Application Development
Hire .Net developers to create high-end dynamic web applications that run on multiple browsers according to your project needs. A dedicated team of .Net developers can assist you in creating innovative, scalable, reusable, consumer-centric websites and web applications that cater to market demands.
Dot Net for web development is relatively extensible as it doesn't hook itself around a particular programming language. .Net core development services can play a vital role in developing an app that seamlessly brings together user experience across multiple platforms.
Dot Net for web development and execution can work across MAC, Linux, Windows in complete sync. Additionally, Dot Net web development can also occur in many languages, including C++, VB.NET, ASP.NET, C# and more.
Dot Net is swift & modular platform that can quickly help coders create websites and web applications.
When it comes to Dot Net for web development, you need to ensure that it supports all the platforms. The latest ASP.NET core development services can create robust and uncomplicated web applications that run on different OS, including Mac, Linux & Windows.
In short words, the backend will be running the C# code. DOT NET can play a significant role to have an interoperable application that seamlessly brings user experience over numerous platforms. You can hire a .Net developer for application development and utilize this cross-platform attribute.
The Dot Net framework operates on object-oriented programming, which eliminates unwanted codes while involving a fast turnaround time for the programmers.
In addition, .Net core development services consist of reusable codes and many other reusable elements, which translates into lesser coding time and reduced costs of developing websites & applications.
With the latest technology, we have minor coding and more attributes onboard. That is why coders can efficiently optimize the coding structure. When coding is shorter, it will take less effort for a .Net development firm to create an application cost-effectively.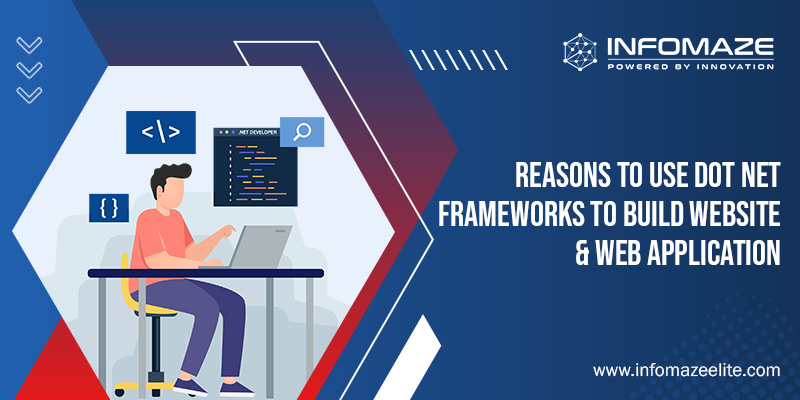 Another dominant reason most companies prefer .Net development is because of its wide range of resources that can help you get commenced within no time. Any application built by skilled .Net developers will have rich functionality & high-end scalability compared to the one created by an amateur coder.
Dot Net framework is one of the most highly varied frameworks that fit in well with custom mobile application development. The websites & applications created with this technology can run on multiple devices with the help of using and reusing different features.
A substantial challenge in this method is to address the consumers using new appliances while making them acclimate to new operating systems, platforms, versions every day.
The web applications & websites developed with ASP.NET core development services are straightforward to write & maintain because the HTML and source code are incorporated together.
It is easy to retain a website with minimal coding. At the same time, it might be slightly tricky for new programmers to understand the pattern. Hire ASP.NET developers to optimize the codes in ASP.NET.
It is not enough to say that a smaller number of codes makes web application development easy, but it's an effective way to manage and maintain strategy.
If you are handling an establishment, it's more suitable to have a cloud-based setup in this contemporary industrial era. This proposal offers various kinds of ASP.NET core development services and IoT services.
The Dot Net framework supports cloud computing services like Google Cloud & Microsoft Azure that builds, tests, deploy & manage applications through globally established data centres.
Using cloud-based support will help you quickly understand operations and easily manage robust applications. Create an application for the long term to be flexible and consistent with newer techs in the future.
Ready to start your .Net Development Service?
Do you need to customize high-performance, enterprise-grade, user-centric cloud-based web and mobile applications? Infomaze delivers a broad spectrum of services, including .Net core development services to help organizations build scalable and robust applications.
By leveraging the power of Dot Net frameworks and its latest techs, we create and develop first-in-class applications that deliver the performance and productivity required to run a business. You can transform your project requirements into agile & robust web applications cost-effectively.
---