Web Application Development: The key Factors to Consider
In today's interconnected world, the expansion of businesses on a global scale demands effective tools and advanced technology. Undoubtedly, a web based application has become a fundamental component of every establishment, serving various purposes, ranging from facilitating online sales of products and services to disseminating crucial information about a company. A strong web presence plays a pivotal role in enabling businesses to reach out to worldwide audiences.
While mobile applications have gained prominence, a professionally developed web application for business remains a powerful tool for achieving industry standards. With personalized designs and customizable content, websites function as versatile applications that seamlessly adapt to any device. By embracing web application development for their business needs, companies empower developers to create and share information without limitations or constraints.
Maximise your global outreach through a web application
A web application is a digital program that lets you perform tasks over the internet. It is a software application that runs requests and functions through web technology and web browsers. Web applications use a combination of server-side and client-side scripts to complete user tasks. With millions of businesses using the internet as their go-to marketing strategy, a web application must present information, store data, process transactions, and interact with potential consumers.
Our Web app development services include designing and creating websites that specifically suit various businesses. They are customized to meet and achieve the required business goals. Web based application development for business serves as a gateway to communicate and set global visibility.
Processing accurate data, secure transactions, maintaining the database, managing inventory, among others, are some of the crucial features of a standard web application. Infomaze understands the importance of web development for businesses to achieve better marketing heights and provides some insights worth considering if you plan to get a web application.
How can web applications help businesses grow?
Any business certainly needs an online presence to network and sell its products or services. But how many of us know that a professional web application is what it takes to achieve strategic prospects.
Here is why a web application is vital for every business:
Consumer engagement:

For any business to connect with the global market, it is essential to communicate the information you want with the audience. The web application servers act as a platform to showcase your products/services and engage your consumer base. Regularly updated websites provide a seamless experience to the user.

Cross platform:

Web applications function across multiple platforms compared to a mobile application designed only for a specific platform. Web applications can run on any web browser indefinite of the operating system in use.

Centralized data:

Data plays a vital role in every business. It is needed to control project details, stock management, sales trackers, employees database, and more. Global enterprises need solutions that can be let them access data across branches. Unlike software installed on computers with data stored in local systems, web application solutions ease restrictions on data available to everyone.

Security:

Infomaze builds web applications with high-security standards. Deployed on dedicated servers and monitored by server administrators, web apps provide high security and privacy for online data to prevent possible errors and confidential information leaks.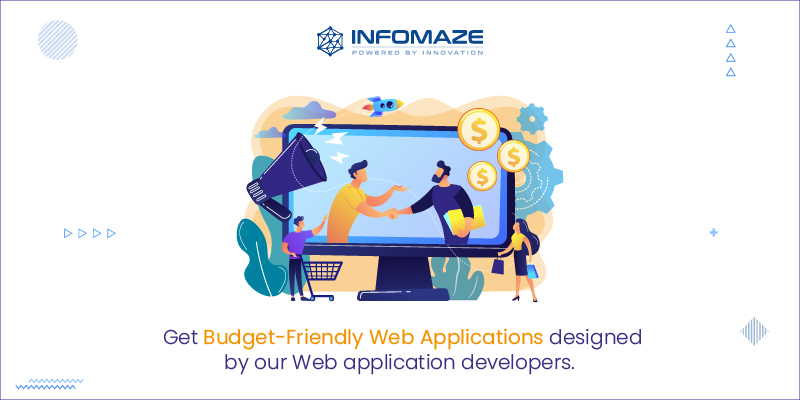 Maintenance:

Local software consumes more space for data storage. But as web applications utilize web browsers, they consume minimal space to store data. Any updates or patches are rolled out and run in the background requiring less human intervention. Maintaining web applications is trouble-free compared to installing regular updates for local system software.

Expansion:

Online data have to be updated frequently to follow trends and business improvements. For an eCommerce portal, the application should have stocks and new products to be updated more regularly. Web applications make the task simple by letting developers add just the updated new content in the servers instead of making changes in the entire source file.

Affordable:

Creating a web application comes with a price tag that should be economical and balanced. We at Infomaze provide complete web application development services at reasonable and pocket-friendly prices. We offer you a competitive response as per your design requirement.
Designing Web Applications for Business
In a business set up with expanding strategies, it must create a dedicated online space and get custom web application solutions. Designing a web application for any business is as important as planning the business strategy itself. We at Infomaze have experienced web developers to analyse the requirement and develop the client's business need.
The importance of web development for businesses depends on the content's design and creative thought flow. Our experts will create a smart web application and personalised online presence to help enterprises gain their maximum potential.
Things to consider before building a web application
Business identification – Sourcing ideas for the web application
Structural planning – choosing templates, patterns, and navigation
Software for web development – Considering the right software or programming language is crucial in developing web applications.
Designing – Themes, background, icons, colors play a critical role
Additional Features – Adding trackers, payment portals, shipping trackers, form data, to name a few.
Database management system – Sourcing servers, cloud management for storing credentials, information, and updates
Validation – After creating a web application, testing for bugs, security, and other standard protocols is a must.
Deployment – Web application installation requires potential background checks and timely completion to ensure hassle-free deployment
Maintenance – Once the deployment is complete, regular maintenance checks and updates for the application must be done and installed to function correctly.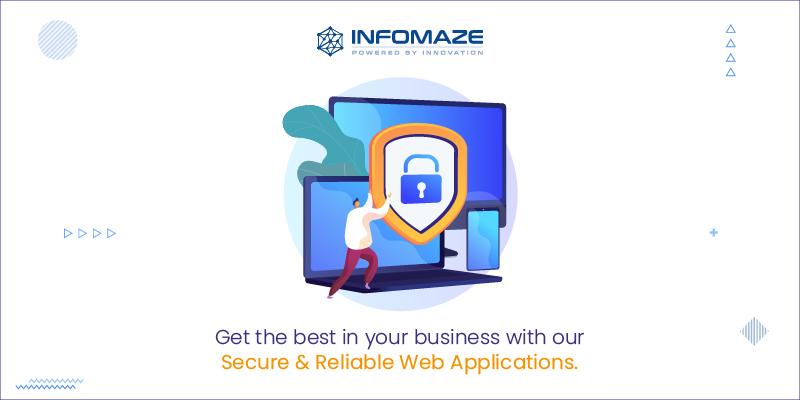 Why Choose Infomaze for your Web Application Development?
Web application development for business requires many stages of organised planning to be diligently adopted by custom web application developers. And we are no less in proving our full capabilities in creating customised world-class web applications. We are proud of our meticulous execution and timely delivery of our client's projects.
No business is small. We prioritise our client's requirements and approach each challenge with our expertise.
Provided as SaaS models, Infomaze includes regular application maintenance, including software upgrades, updates, and quick fixes. We offer packaged services and ensure an end to end solutions in deploying and maintaining your web applications.
With many trusted clientele, Infomaze has set its mark globally as one of the chosen web application and mobile application development companies. Our developers come with an excellent industry experience to offer services that are par with the global standards. You can hire developers from Infomaze with in-depth knowledge of the technologies, their portfolios, and expert solutions.
---