Top Benefits of Outsourcing WordPress Web Development Services
WordPress is one of the finest platforms to promote your service and products, and its massive website development framework powers over one-third of the internet. Outsource WordPress development to boost efficiency, productivity, expertise, and, most notably, profit margins.
Big enterprises to startups use WordPress web development services for their websites, including eCommerce stores, businesses, and bloggers, due to its being user-friendly, feature-rich, and has many useful plugins that can improve the user experience.
Outsource WordPress developers from a growing organization to gain benefits and achieve your vision with stress-free revenue generation. In the realm of CMS and professional WordPress website development, new trends are emerging every day, and it's vital to find answers to your questions and seek practical ways to fulfill your requirements.
Why should you outsource WordPress website development services?
Startups and enterprises are constantly looking for a reliable and strategic way to boost their business profit margins, productivity, efficiency, and expertise with cost-effectiveness. Outsourcing WordPress website developers overseas will aid business productivity and profit by using their resources and skills to deliver more extensive and profitable projects.
You can also focus on creativity and core competencies, improve your marketing strategies and quality assurance, and grow your client relationship multifold times.
If you cannot hire an in-house or full-time WordPress website developer to handle the high volume of work and are looking to cut costs, then outsourcing WordPress site development can be a huge help.
Advantages of outsourcing WordPress development
Hire WordPress website developers to handle all your work as per your business requirements so you can give equal attention to expanding your business and your client's work. So outsource WordPress development to simplify project management for your enterprise.
WordPress website development is one of the areas where highly concentrated and targeted efforts are needed to bring out the best results. To increase the efficiency of your work, the core focus on your business in the same direction is also vital.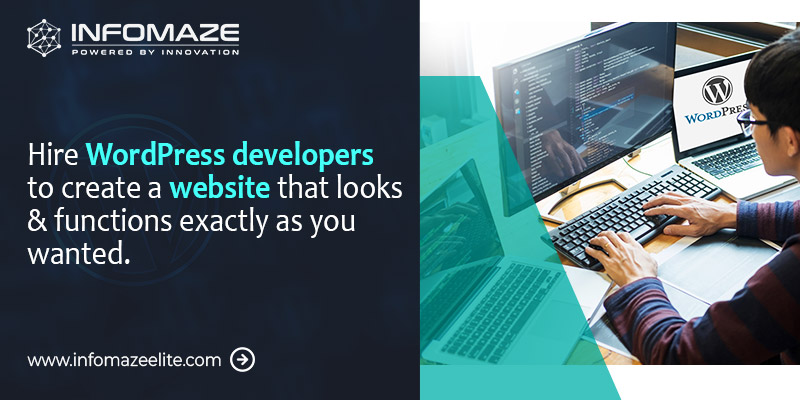 WordPress is straightforward to use, but with that advantage, you may need clarification with various and multiple customizable features and functionalities. To avoid complications, it's better to outsource WordPress web development services to experts.
Hiring WordPress website developers will ensure high-quality work with better results for your money. As we discussed before, the WordPress platform is user-friendly, sturdy, and easy, and anybody can build a website or component, but creating a reliable site as per client needs requires time and effort.
Outsourcing WordPress site development is much cheaper in countries like India rather than hiring full-time developers. Outsourcing WordPress website development is an easy way to cut down the costs of your business. Due to multiple-day tasks and requiring a lot of time & brainstorming, you can save time for other business activities.
Outsource WordPress development projects to a reliable agency to deliver projects on time involving the testing process, providing a well-written and tested solution. Hire WordPress website developers who use the latest web technologies to generate consistent outcomes and exceed consumer expectations.
When you outsource WordPress web development services, you can choose various services and developers for full-time and part-time as per your business needs. WordPress developers usually have flexible working hours and use their design and development skills to deliver top-notch solutions with support services.
What are the WordPress development services to outsource
If you want to refurbish or build a new website from scratch, hire WordPress developers with experience and skills to create or customize your company's website with SEO optimized to reach its audience and increase your profit.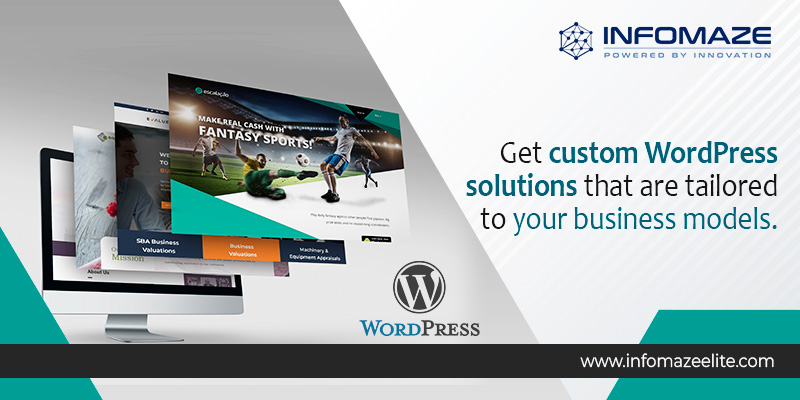 Get custom WordPress plugins built by our WordPress developers, who specialize in creating and implementing custom WordPress plugins using CSS, JavaScript, and PHP to create or modify plugins to perform specific functions
Outsource WordPress developers for your unique project who has the knowledge and skills to create a unique look and feel for your prospects to experience when they visit your site with colors, style, layout, and functioning tabs.
Eliminate manual data entry and automate your website with third-party API integration through standard or custom APIs for payment gateway, social media sites, travel, shipping, and more.
Hire WordPress website developers to migrate to a new system without leaks, data loss, or downtime at cost-effective rates. Our migration services include platform migration, data migration, and server migration.
Our WordPress web development services will include post-deployment support and maintenance with upgrades, bug tracking, reporting, transparent project viewing, and more according to your needs and time so that you can get assistance whenever needed.
Outsourcing WordPress development service saves money and time for any prospects or entrepreneurs. Hire WordPress website developers with skills and knowledge to create a business website, an eCommerce store, or anything similar to turn your vision into reality at cost-effective rates.
---