Technical SEO: Enhancing Website Performance for Search Engines
In the ever-evolving world of digital marketing, staying ahead of the curve is very essential. One aspect that often takes center stage in the pursuit of online success is Technical SEO. This powerful tool can make or break your website's performance in search engines.
We'll go into the topic of Technical SEO in this blog post, looking at how it improves website performance for search engines and why investing in technical SEO services, solutions, consultants, or agencies may revolutionize your digital presence.
Understanding Technical SEO
Technical SEO is the process of optimizing the technical features of your website to improve search engine visibility and crawlability. It concentrates the backend processes of your website such that, search engines can easily access, index, and rank your pages. Technical SEO has many factors. Like mobile-friendliness, secure connections, and structured data for better website performance.
Role of Technical SEO in Website Enhancement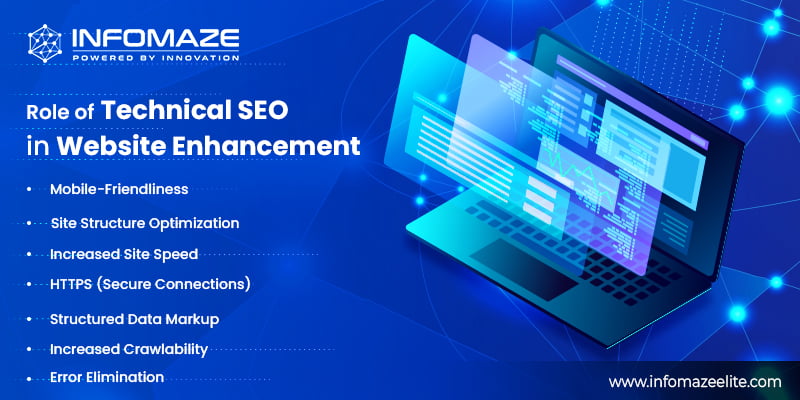 Technical SEO is the foundation of your website's search engine performance. Here comes the essential role of technical SEO in website enhancement.
Because the majority of internet users use mobile devices, Technical SEO ensures that your website is responsive and mobile-friendly.
Technical SEO specialists optimize your site's structure and hierarchy, making it easier for search engines to understand and index the material. A well-structured website helps both the user experience and the crawlability of search engines.
Sites that load quickly improve user experience and are recommended by search engines, resulting in higher ranks.
Technical SEO entails safeguarding your website with an SSL certificate and switching from HTTP to HTTPS. This gives the user trust and increases site ranking in search engines.
Technical SEO specialists use structured data markup to help search engines better understand your content. Rich snippets and improved search results boost click-through rates by making your site more appealing to visitors.
Web crawlers are used by search engines to navigate and index websites. Technical SEO guarantees that these crawlers can readily access and understand the material on your website, resulting in higher results.
Broken links, duplicate content, and server issues can all be detrimental to your website's SEO. Technical SEO finds and remedies these issues, hence boosting the performance of your website.
Consider the following crucial technical SEO solutions:
Mobile Optimization :

Make sure your website is mobile-responsive and works well on a variety of devices.

XML Sitemaps :

Create and submit XML sitemaps to help search engines crawl and comprehend your site's structure.

Canonical Tags :

If you have duplicate or similar content, use canonical tags to designate the preferable version of a page.

Redirect Management :

Handle redirects correctly, especially when dealing with website migrations or URL changes.

Website Performance Optimization :

Users get impatient with slow-loading websites. To enhance loading times, technical SEO focuses on optimizing images, minifying code, and exploiting browser cache.

Robots.txt and Meta Robots Tags :

These tools assist you in controlling which parts of your website are indexed by search engines, giving you greater control over what material appears in search results.

SSL/HTTPS :

Use an SSL certificate to secure your website, which not only secures user data but also gives your site a modest SEO boost.
Infomaze- Your Technical SEO Partner
Given the importance of Technical SEO, it is critical to have the proper partner on your side to deploy the necessary technical SEO solutions. At Infomaze, we understand the complexities of Technical SEO and offer various services adapted to your specific requirements.
Our team of professional Technical SEO consultants and experts can help you optimize the technical parts of your website, such as:
On-Page Optimization (OPI) :

We optimize your website's meta tags, headers, and content to ensure that it adheres to the most recent SEO best practices.

Optimization for Mobile Devices :

We ensure your website is mobile-responsive, which pleases visitors and search engines.

Troubleshooting Technical Issues :

Our team of professionals handles technical difficulties such as broken links, crawl failures, and other performance issues with your website.

Audits of Comprehensive SEO :

Our technical SEO consultants conduct in-depth audits to uncover issues that may be impeding the operation of your website. These audits examine everything from technical flaws to issues on the page.

Implementation of Schema Markup :

Our professionals use structured data markup to improve the appearance of your content in search results, resulting in higher click-through rates.

Security and assistance :

We strengthen your website's security to secure your data and your users' trust. We give ongoing help to monitor and optimize the performance of your website.
You can't afford to ignore the importance of Technical SEO in the realm of digital marketing. Partner with Infomaze for technical SEO optimization to stand out in search engine rankings and generate more organic traffic.
Our technical SEO services and solutions are targeted to your website's specific requirements, improving its search engine performance and, eventually, increasing the success of your online business.
Don't let your rivals outrank you. Contact Infomaze today to begin your journey to technical SEO excellence. The success of your website is only a click away!
---