Create Visually Attractive Website Easily With Zoho Sites
Do you need to build an attractive website by quickly dragging and dropping features? Businesses, organizations, groups, or individuals can develop and maintain websites for various purposes.
More people want the liberty to carve out and build their own website on the Internet that reflects who they are and their business. Fortunately, we have Zoho Sites to create attractive websites with an online presence at ease.
The Zoho website builder provides you with essential tools to create the unique website of your objectives. You can start by selecting a theme and arranging elements using drag-and-drop functionality.
With Zoho web builder, you can edit, preview, and publish it anytime. Let us learn more about Zoho sites, their features, and why you should choose Zoho websites for your next project.
What are Zoho Sites and their Features?
Zoho Sites is a robust and intuitive instant website builder with a cloud-based content management system that allows you to build beautiful appealing websites quickly and easily in no time.
You don't need any experience with the software, hardware, or knowledge about coding. You can create your site for free by using an intuitive drag-and-drop tool to hone your online marketing strategies and online presence.
With Zoho CRM website creator, you can choose a collection of customizable templates which offer an excellent web building experience, creating various project types, including commercial or non-commercial projects, business websites, portfolios, blogs, and more.
Zoho web builder furnishes responsive designs, customization tools, intuitive navigation, HTML/CSS access, powerful integration options, and other features to help developers to create websites successfully.
Zoho site builder offers various feature sets, including:
Drag and drop website builder
Responsive designs and themes
Visual marketing tools
Custom designed templates
User-friendly code editor tool
Auto-update database
Google tools
Email marketing
Image optimization
Video support and more.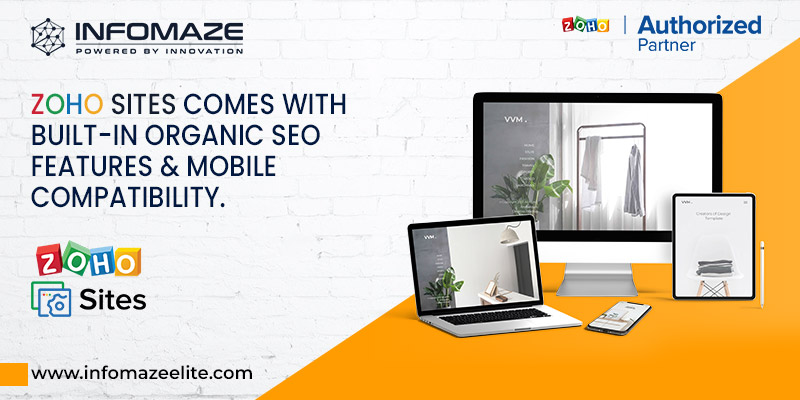 Why choose Zoho Sites to Build an Intuitive Website for your Business?
If you go through the internet, you get a wide range of custom API integration services available in the market that can improve the interface and functionality of existing or new programs that can enhance business productivity and implementation.
It is vital for IT development companies to use the different API authentication methods, including oAuth, API Keys, JWT, SAML, and token, to name a few, to get secure API integration solutions for business success.
Zoho website builder allows you to use the drag and drop functionality to build a website without learning programming languages such as PHP, HTML, WordPress, .NET Etc.
Compare and customize how the content of the text looks above the other, besides, or by the side of an image or video or any media just by dragging and dropping features you want in a "block" fashion.
Using Zoho to create a website offers design templates that are highly responsive and mobile-friendly, indicating all websites created with Zoho sites are suitable for any device or screen.
Get professionally designed themes and templates which can customize to reflect your business design preference and requirements and ensure all our efforts look well defined and mature.
You can choose a template theme for building your website using the Zoho website template gallery and customize it according to your industry requirements, such as company logo, images, brand identity, and much more.
To create a Zoho CRM website, you aren't limited to a particular industry. You can select available themes for various industry verticals that suit your marketplace and start building your website without hassle.
Many people have different meanings regarding the word multimedia, and it's not just colorful pictures on the Internet. Your website must be compelling for end users, so adding multimedia components is necessary.
Zoho web builder allows you to add multimedia components such as interactive offline and online media and communication products to represent images, text, sounds, videos, maps, flash, and more.
Zoho site builder has built-in SEO features to drive more traffic to your website and rank higher on any search engine. You can add tags, metadata, and robot.txt in just a few clicks to optimize your web pages and entire website for specific keywords.
With Zoho sites, you can upload your sitemap so various search engines can read your website logically and add Google Analytics Tracking ID to your website to comprehend your visitors frequently.
Every site created using the Zoho CRM website is mobile compatible and highly responsive. You can instantly preview your unique website in the initial state to see how it looks on a mobile phone.
By using Zoho create a website and manage both average and mobile website layouts from one place for seamless user experience and increased business productivity.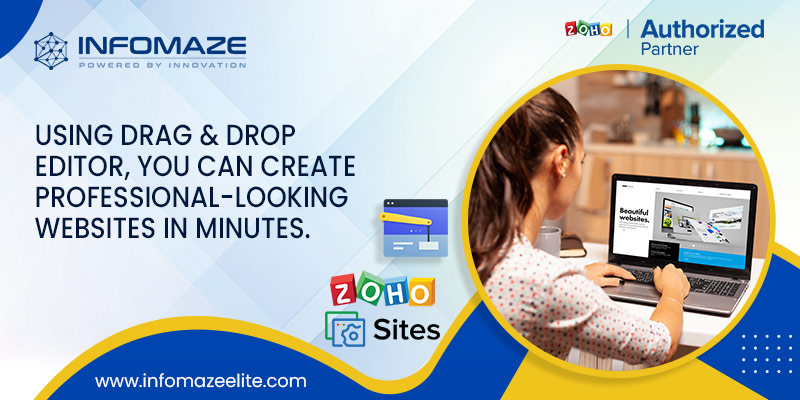 As we are Zoho's authorized partner, we can attest that Zoho Sites provides dynamic and scalable content management, which means that anything that gets updated and published on the website will be reflected on the live page immediately.
If you need to unpublish anything on the site, it is possible within a few clicks. If you opt for Zoho premium site builder, you can revert to the earlier version of the site anytime because Zoho sites back up all the pages instantly.
Suppose you already have any of Zoho Corporation's software. In that case, you can access Zoho Sites and embed your blogs into the website to engage more customers in a two-way dialogue with the guests through the standard box feature.
For email marketing, you can use the form feature of Zoho Sites can be practical in gathering sign-up information from guests to initiate and run online surveys to record guest reviews.
If you are a website developer, you would know how time-consuming and compelling the initial design development but it's equally head-scratching when it comes to updating and modifying the content on the website.
Thankfully, the Zoho website builder makes it quick, easy, and practical to update content in real time. Whether uploading an image, a block of text, or the UI/UX of your website, it's all done without any hassle.
After your website is created and designed, it's time for publishing, and end users will be able to visit your website irrespective of device. You can make necessary changes in the content, review it, and go live with one click button of the Zoho online website builder.
Zoho sites allow hosting with extensive storage and unmetered bandwidth per your business needs. It stores all the content on the Zoho creator database and delivers the Zoho CRM form builder to manage the support requests of customers.
Zoho websites is a reliable site builder that lets you create professional-looking and mobile-friendly websites in no time for any business sector. Infomaze has been a Zoho-authorized partner for years.
Our Zoho developers have extensive knowledge and experience in creating and customizing eye-catching websites per your business needs that enhance appearance in a comminuted way. Ready to create a unique website?
---