Celebrating 20 Years in Software Development Business: Infomaze
Infomaze is Celebrating 20 years (2002-2022) of Service and Excellence as a Software Development Company
What started as a small service providing company in 2002 has grown into one of India's fastest and best software development companies. We take this opportunity to thank our incredible team members, clients, partners, and friends that make up the entire Infomaze.
As we celebrate this incredible journey, we want to walk down memory lane, highlighting key milestones, strengths, and work towards our clients, society, and employees.
2002 – Infomaze Was Formed Immediately After the Dot-Com Burst
Our founder & CEO, Vikash Bardia, formed Infomaze in New Delhi, India, to provide business solutions on the Web. With a small one-person company, the first project, which was a CRM, was delivered to the client in the US, which was a roaring success. What followed was a long-term synergy with the clients in the US for all their software needs.
2004-05 – Infomaze Entered Into Contracts With Clients Serving Fortune 500 Companies
This year marked the beginning of developing a Workflow Management System, more along the lines of creating an ERP solution with fewer complexities and an easy-to-use solution. The challenges included security, role-based access, business workflow, and real-time information. The solution was a success, which paved the way for more business solution developments.
2006-07 – Infomaze Moved its Development Center Closer to the Silicon Capital of India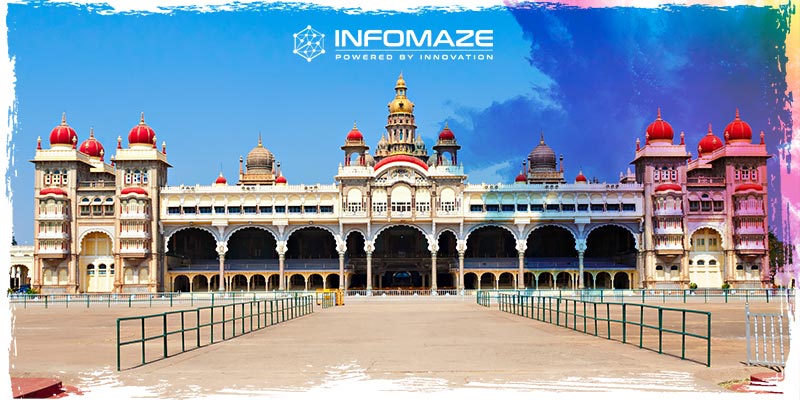 This was a strategic decision to move the entire development center to Mysuru, a heritage and growing town near Bangalore, the silicon capital of India. Several factors influence decision-making, including the availability of local talent, and primarily supported by our clients.
2008-09 – Infomaze Became A Private Limited Company by Shares
To grow and build trust with our clients, partners, and employees, Infomaze registered itself as a Private Limited Company by Shares, which allowed more synergies, collaborations, and an opportunity to work with more prominent clients and government projects.
2011-12 – Infomaze Decides to Embark on its First Flagship Product
Having served its client across various industries and sensing the need to create a Management Information System (MIS), Infomaze started working on its first product – a Print MIS Solution for the Printing, Signage, Promotional, and Print Brokering Companies.
2013-17 – Infomaze Represented Itself in World's Biggest Trade Show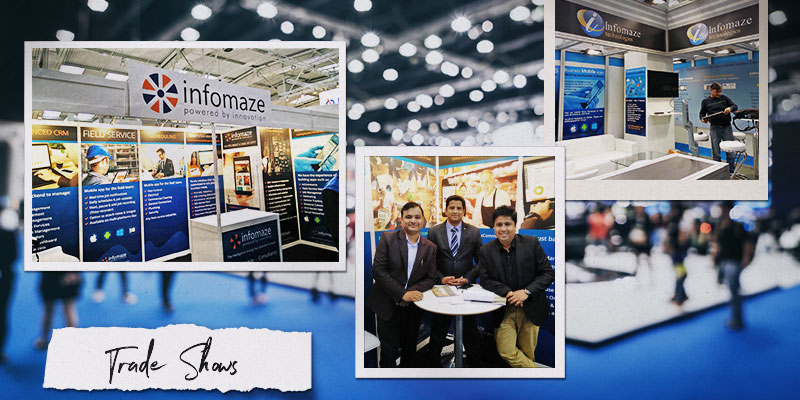 With the plan all mapped, Infomaze exhibited itself at CeBIT, one of the biggest ICT shows in the world, thus reaching out to many more customers and partners, which then led to further expansion and growth for the company. From 2013 to 2017, Infomaze continued to exhibit itself across many shows, including Germany, Hongkong, Australia, and the US.
2017-20 – Infomaze Moved to its Own Infrastructure – Infomaze House!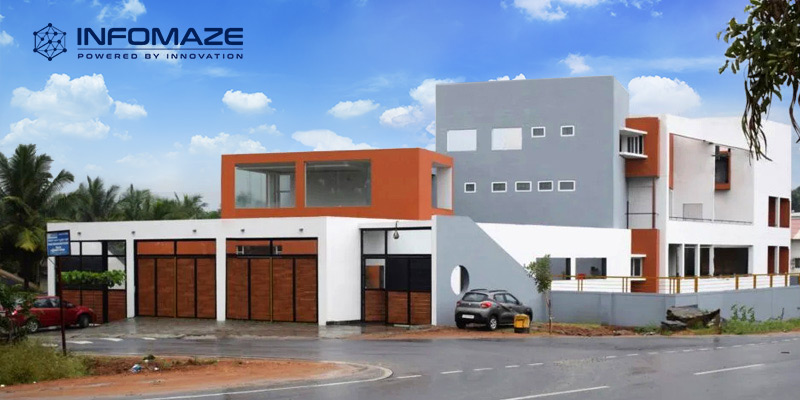 Spanned over 20,000 Square feet of land and with over 24,000 development spaces, Infomaze was ready to make a giant leap to increase its capacity to develop more products and provide more services in the IT and ITES to its clients across the world.
The infrastructure is spread out to provide one of the best working environments to its employees while making the best use of renewable energy and reusable resources. To ensure a 100% zero-waste emit, Infomaze will go fully Solar in 2022-23. Thus a zero-waste emit company.
2020-22 – COVID, Challenges and How We Overcome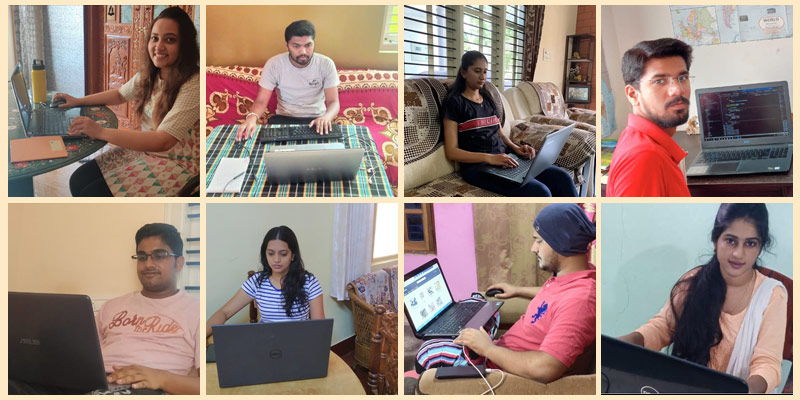 When the 2020 COVID pandemic was knocking on our door, our IT team sensed the need to provide work from home (WFH) and got itself fully equipped to provide uninterrupted service to our clients. Our employees also took this challenge and delivered beyond expectation.
2022 & Beyond – ISO Certified and a Globally Recognized Company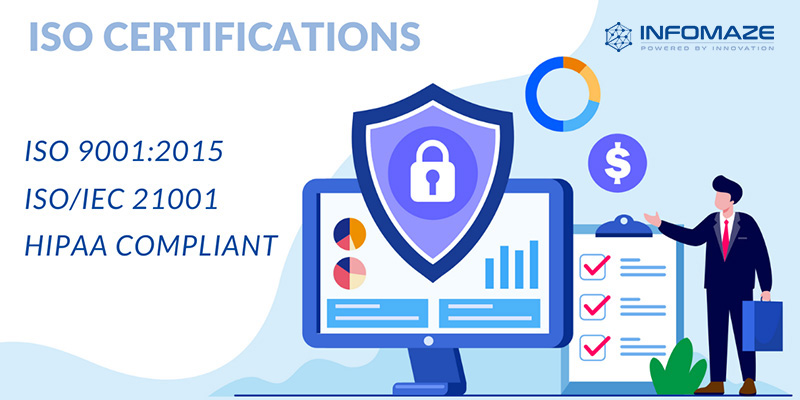 Since our inception, we have come a long way and seen many challenges and have overcome them to celebrate this significant milestone for our company. We have consistently innovated, adapted the latest tech stack , provided training to our employees, and been forefront in our support and commitment. Now Infomaze is an ISO 9001:2015 certified & ISO 27001 accredited company, and we sign NDAs and take privacy & quality seriously.
While we plan to work on more business products, we will continue to provide software services with the best of our skills and the experience we bring on board through various projects we have done in the past 20+ years.
Here's a quick rundown of essential aspects of our business, from technology to awards. Meet our professional team and have a quick look at our work for our society.
Our first project was developed using Classic ASP (Active Server Pages). Then there was no looking back on how our team adopted a new tech stack, including Open-source technologies, to meet the client's requirements and projects.
ASP.NET, .NET CORE, PHP, MEAN, MERN, WORDPRESS, CMS, MOBILE APPS TECH-STACK, IONIC, REACT, REACT NATIVE, TYPESCRIPT, JS, jQUERY, APIs, Business Intelligence, and much more. You can read more about all our services here.
We launched various products during our journey. Some did very well, and some could not meet our expectations. But we never failed. We either succeeded or learned from the failure and came back stronger.
PrintPLANR – Our flagship and one of the best cloud-based Print MIS, Web2Print Solution, and a complete solution for the printing, signage, promotional, and print managers. The product continues to rule all sizes of companies and is ever-evolving to make it one of the best print MIS and web2print products.
FieldPLANR – Our following product for the field service industries provides an excellent solution to the office team (over the Web) & technician on-site (on Mobile). Used by all service industries, our product has a presence in Europe & Middle-east markets and looking to expand across the globe.
Apart from the above, we also launched Digital Asset Management (DAM) solution, Form Builder, Social Dating Apps, Invoice Builder, and other business solutions.
We have been fortunate to have clients from across the globe, and we have always treated all our clients, irrespective of their location and size, with the same passion for providing them with the best solution. Also worth mentioning, we still have a few clients from 2004 and continue to serve them for their business and product needs.
We also build business partners in Australia, New Zealand, the United Kingdom, South Africa, Spain, Mexico, and US/Canada to provide better services to the local clients.
Infomaze exhibited and attended various shows across the World, including:

CeBIT, Germany – 2013 & 2014
ICT Expo, Hong Kong – 2015 & 2016
IndiaSOFT, India – 2013,2014 & 2015
PacPrint, Australia – 2013 & 2016
Graph Expo, Chicago & US – 2015 -16

Infomaze showcased its case studies on various projects and products during the show and closed various deals, partnerships, and synergies.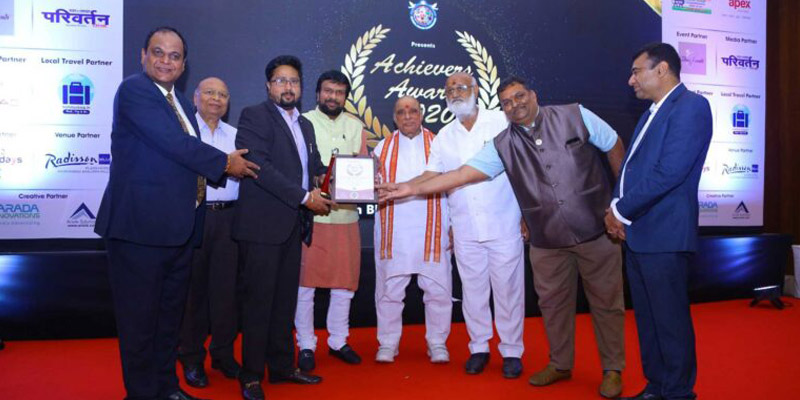 Awards are the best motivation, and we have been fortunate to have been nominated and awarded for our achievements on quite a few occasions. Here are some of them:

2014 – CIO Review – 10 Most Promising Commercial Print Management Solution Providers
2015 – Silicon Review – 20 Fastest-Growing IT Services Company
2020 – The Aryavartha Express – Best IT Solution Providers in South India
We have received prominent feedback from our potential clients and customers. Some are shared below:
Infomaze is the best technology partner any business could ask for, they go above and beyond to satisfy my business needs and they will do research and develop anything you need. I will never switch to any other company, may your success be our success! P.S. Gaj is the best.
Salvatore
Vic and the team at Infomaze are absolutely awesome to work with. Their price was fair and their professionalism is top notch. They spent more time waiting on me than I did them, and they were patient and courteous every step of the way. I would definitely recommend hiring them , and I will continue to use them for my future projects
Bryce
I was very happy with the promises made and, more importantly, delivered. Quality code. Neat and organized. Ace assisted with the last tweaks to ensure I was a happy client. I would be happy to work with them again on my next project.
Jonathan
The project thus far was not complicated and we are continuing to the next phase. My experience with Vik to date: Very good service – friendly and helpful with high level of technical understanding and competence. Listens to what I want, makes suggestions where appropriate and delivers very quickly.
Gerhard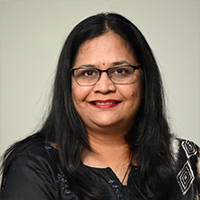 A true mentor who partakes in and provides valuable administrative inputs to its strategic growth has stood by Infomaze. She is true to her position and has always been supportive and forthcoming with her administrative offerings.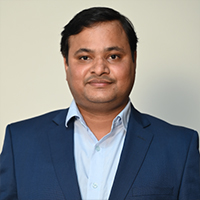 With unmatchable expertise in the IT industry, he has served Infomaze since its initiation and has driven all of our projects towards success. He has stood as a dedicated coach, mentor, and support to his employees concerning anything related to IT and providing innovative solutions.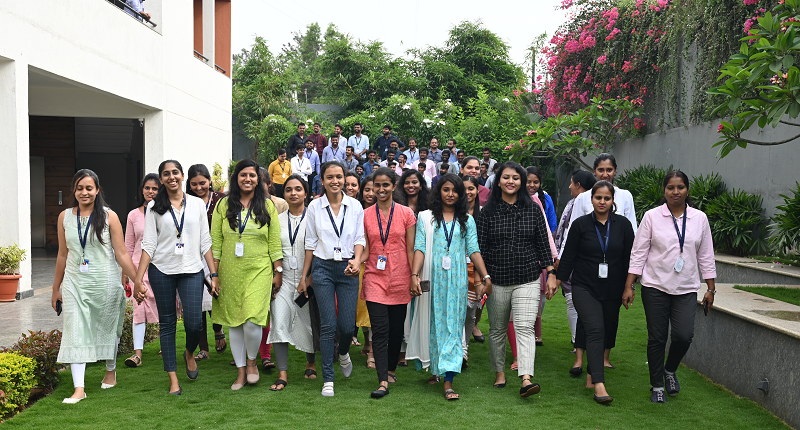 Today, as we celebrate our achievement, we also thank all our employees (present and past) for their unmatched and unparallel services that have given the present shape.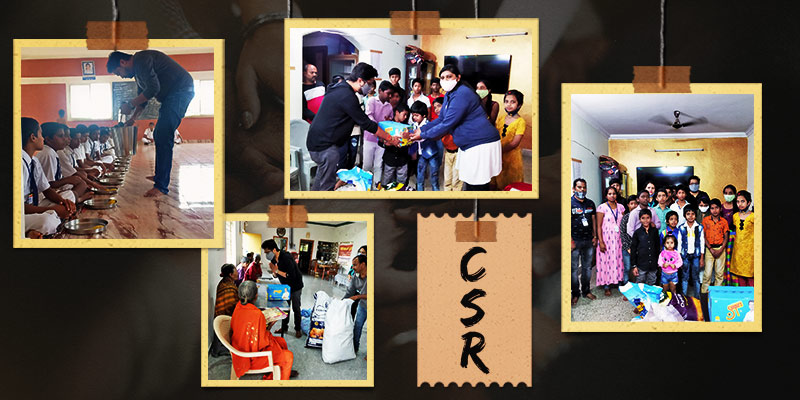 Infomaze is determined to bring changes in society and contribute to making the world a better place through a handful of initiatives involved with our employees. Over the past decade, our company has grown together with local communities by contributing to regional development in its facility's areas and proactively conducting social-contribution activities for nursing homes for the elderly, an orphanage for children, and many more.
Again, our heartfelt THANK YOU to all of you, our customers, partners, and investors for the past 20 years. We couldn't have accomplished any of it without our dedicated Infomazians. We will cherish today's happiness, innovation, vision, connection, and togetherness and look forward to again celebrating all we've accomplished together in 2032.
---