Application Migration: Not as Complicated or Tough as You Think
Hey there! Are you someone who has issues transferring your applications? Then you're in the right place. All you have to do is sit back, relax, and let our team of experts do the job for you. What is better than getting the best application migration services from the best team?
The process of transferring an application from a single setting or environment to another is referred to as application migration. This might entail updating to a newer version of the program, migrating an application from on-premises servers to the cloud, or moving it from one cloud provider to another. Performance, flexibility, safety, and general effectiveness are to be increased.
Cloud Migration and Services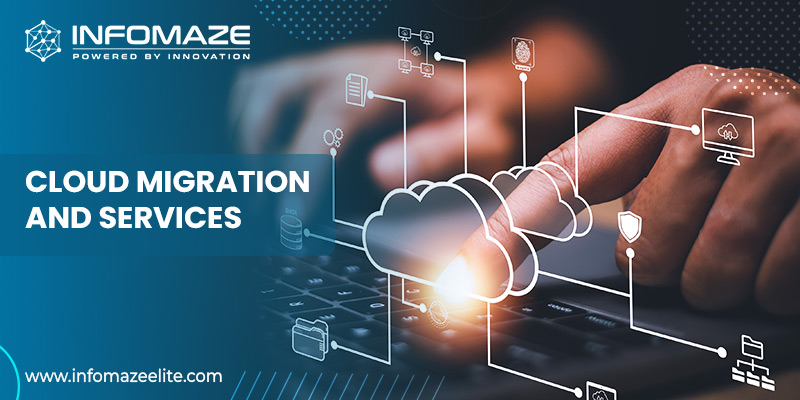 The modernization of enterprises and the transformation of their IT infrastructure depend heavily on cloud migration and its services. Applications, data, and workloads are transferred from on-premises systems to cloud platforms through cloud migration. This strategic shift has several advantages, including increased scalability and flexibility, reduced cost, and higher security.
Business organizations may improve their efficiency, agility, and creativity through cloud application migration services. Performance, cost-effectiveness, and competitiveness may all significantly increase with the correct migration plan and use of the right cloud services.
There are several services available to assist your business in developing a fruitful cloud migration strategy, plan, and implementation.
IaaS :

Infrastructure as a Service, is a virtualized resource for flexibility and control.

SaaS :

Software as a Software, is software that has access to the internet and does not need any kind of installation.

PaaS :

Stands for Platform as a Service. By offering an easy-access platform for the development, deployment, and management of applications, PaaS empowers developers.

DBaaS :

Database as a Service, offers maintained database services, taking care of flexibility, backups, and maintenance.

FaaS :

Function as Service, often referred to as serverless computing, enables programmers to respond to events by executing code without having to manage servers. It is effective for carrying out single duties or activities.
Understanding Legacy application migration
The procedure of moving outdated or "legacy" applications from their current environment to a more modern and updated system is known as legacy application migration. Applications that were in use for an extended period and may have been made using outdated technology, software, or programming languages might not be any more effective or maintained. The functionality, security, and portability of these programs regularly require migration in order to keep up with new technological developments
Whatever the method, legacy application transfer is a crucial step in adopting technology developments and maintaining competitiveness in a fast-changing digital environment.
Modernization :

By moving outdated software, you can make sure they keep up with emerging technologies and are more interoperable with modern platforms.

Better security :

To defend against contemporary dangers, have strong security measures in place.

Low cost :

Increase operating effectiveness while lowering maintenance expenses.

Better and Improved Performance :

The performance and responsiveness of applications may be enhanced by using contemporary platforms and architectures.
A few misconceptions about application migration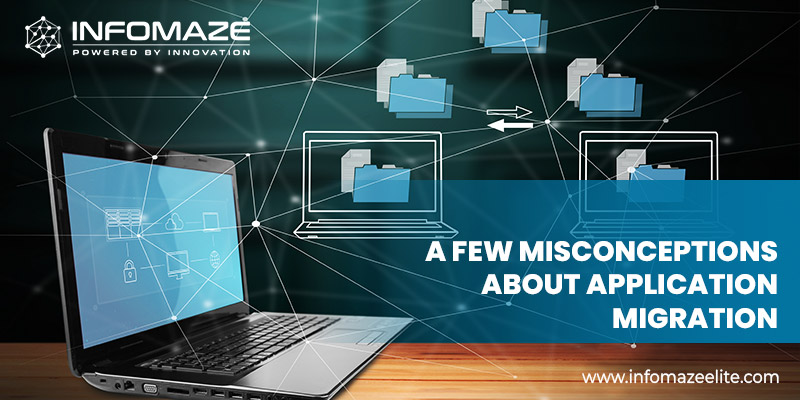 The term "application migration" is technical and sounds complex. It's a common misperception that application migration is quite complicated. Although there are certain difficulties, technological improvements and the availability of migration solutions have simplified the procedure. Migration may be a simple and easy task with careful preparation and knowledge.
Transferring data can be very risky, but not with application migration. Some people think that there is a significant danger of data loss while moving apps. In reality, careful preparation, appropriate backup processes, and testing may minimize data loss. When migrating, maintaining data integrity is of utmost importance, and our qualified experts make sure that happens.
Not all inevitable things are inevitable, some are evitable. Businesses are frequently deterred from transferring apps out of concern for downtime. The use of live migration procedures or scheduling migrations during off-peak times are just two examples of the ways that competent migration teams may reduce downtime. The amount of downtime may be greatly reduced with the proper strategy.
How can Infomaze help you?
Application migration can seem difficult, but it's an essential step in modernizing your company's processes and gaining access to a wealth of advantages. Infomaze can make that work easy for you because we have the best expert team working for you on the application migration consulting part. A successful migration procedure may be ensured by working together with knowledgeable experts and using a planned strategy. Application migration is easier than it may appear,
Partner with us today and open the door to a future for your company that is more productive, scalable, and inventive.
---