A Tribute to Atmanirbhar Bharat Abhiyan
A Tribute to Atmanirbhar Bharat Abhiyan
We are no stranger to the Covid-19 pandemic that came out of nowhere, created panic and chaos among the general public and affected the daily lives of everyone, irrespective of caste, creed, and religion. Our government set a mark in the world by handling this crisis intelligently and with the caution it demanded. We have all been fighting this predicament at every turn of our lives now.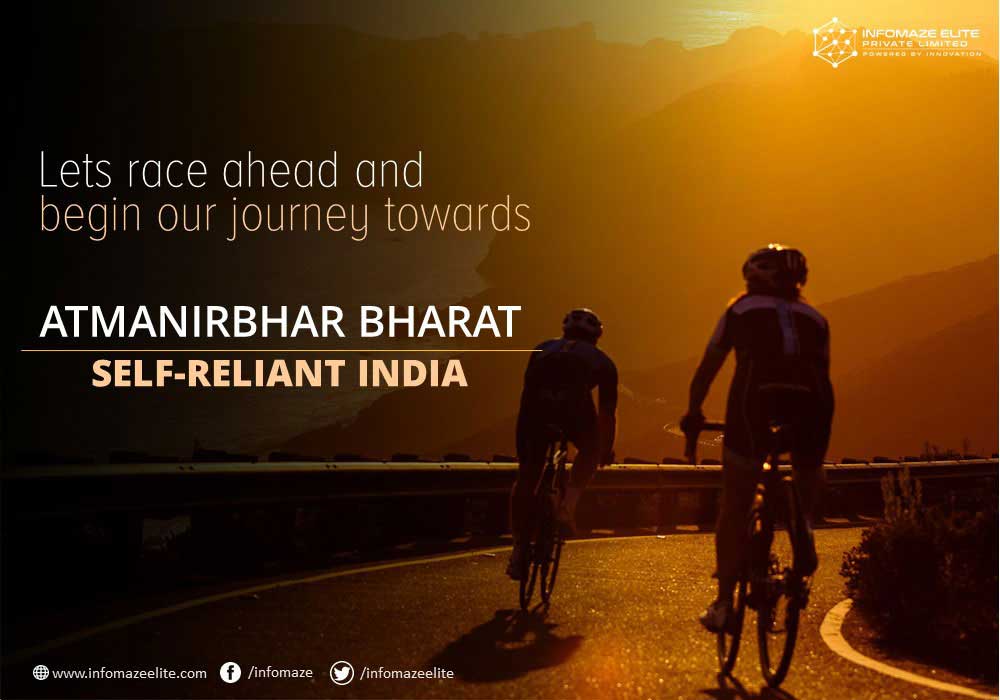 Covid-19 Economic Package Released
As we all know the Prime Minister of India, Sri. Narendra Modi announced an economic package, Atmanirbhar Bharat Abhiyan (Atmanirbhar, which means remaining self-reliant), to support different sectors including the MSMEs (Micro, Small, and Medium Enterprises) recently, wherein in his speech he also advised us to go "vocal to local" so that each individual in our country can support in uplifting the economy in their own way.
We sincerely thank our hon'ble PM Shri Narendra Modi Ji for one of the biggest relief packages. India will rise up with the helpful guidelines of our heroic leader and go to the next level. Infomaze has been proudly serving the nation since 2002, and we fully support the government's initiative to fulfill the nation's dream of becoming self-reliant. COVID-19 crisis taught us why local brands are important. In the time of darkness, they have shown us light. It is time we strengthen local brands with our full support. Let's go 'Vocal for Local' and back our own startups and young entrepreneurs. It's time to bring a change in the Indian economic anatomy and show the world a new portrayal of strength. We need to support each other during and after the COVID-19 outbreak. We need to become self-sufficient and stand united as a nation.
Moving Towards a Self-Reliant India
"ThePrint," a digital news platform that provides insightful analysis of the current economy predicts that artificial intelligence and technology, the soft power of India, a source which we do not lack, will help India remain Atmanirbhar financially during this tough time. As a Software Development Company, Infomaze is not far behind in turning this difficult time into an opportunity by overcoming all the hurdles that we come across on a daily basis, thanks to our employees, some working from home and some working onsite tirelessly and coordinating to not let the work be affected even during this crisis of the Covid-19 pandemic.
Just like during the crisis India acclimatized to the situation and started the mass production of N95 masks in such a short time span and with excellently high efficiency; together as a team, we at Infomaze are providing our clients the best in the business and nothing less so that they can rest assured. As the government is doing their bit, so are we in our own way and joining our hands with their efforts.
So, here's what we are doing to cope with the Covid-19 pandemic at Infomaze and continuing to stay Atmanirbhar effectually and not letting our work get the blunt end:
Adhering to all the guidelines the government's Health Department has set for employees to follow at the workplace, which includes the compulsory wearing of masks while working onsite, maintaining social distancing, and maintaining the hygiene by washing hands with soap/handwash and using hand sanitizers regularly.
Employees have the option of working from home if they have any flu-like symptoms and are asked to stick to a strict hygiene practice.
We are providing N-95 and KN-95 masks in the office premises for our employees to maintain respiratory hygiene and while sneezing or coughing, are asked to place tissue and cover their nose and mouth and discard the tissue immediately in the assigned designation.
We encourage our employees to carry their personal hand sanitizers to the office and bring home-cooked food, avoiding going out for lunch. Also, they are requested not to take a detour while returning home until and unless it is required.
Our employees so far have remained responsible, following all the necessary and required precautions. Infomaze thanks them and continue providing the support our employees need from our end. As our Prime minister, Modi Ji says, "We think together, we resolve together, and together we take the country forward" and not let this doomed time to affect our everyday life, mental and physical health. We are in this together, let's fight against this unfortunate time and remain "Atmanirbhar", and contribute from our end as much as possible for India to proudly carry out the "Atmanirbhar Bharat Abhiyan".
No crisis will stop us from providing you the best software development services. For any of your software development needs, feel free to contact us and our team is here to help you, Covid-19 or otherwise.
Do you want to extend your support?
Let us all be in this together and support our government's initiative and be "Vocal to Local". Reach out to us and get top-notch software development services and solutions.
---